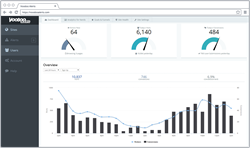 These are the types of errors that go unnoticed in Google Analytics and other website check tools, yet Voodoo Alerts was able to catch quite quickly.
Dallas, TX (PRWEB) December 20, 2014
For website owners and operators, adjusting website features in an attempt to optimize their site for continuously updated browsers and operating systems, can be an extremely shaky tightrope to walk. On one hand, development teams must maintain functionality for website viewers using outdated software, which is still a surprisingly large percentage of overall web traffic. And on the other hand, it is important to maintain relevancy in the market and continue to revitalize outdated website themes and functionality.
Updating a website is not always a safe operation. There are a lot of things that can go wrong in the process. Failure to properly execute a website update can not only result in lost functionality for visitors, but will tarnish a company's reputation in the process. This was exactly the case with a past client of Voodoo Alerts, who in an attempt to update their website, ended up losing a lot of revenue on a particular sales funnel, simply due to altering the HTML coded signup button on the goal page, in an attempt to make it more stylish and modern. This tiny alteration cost this client almost $4,000 in lost sales.
For this client, a simple coding change to a button on a goal page resulted in a lot of lost sales. In what can only be described as a tiny alteration, the client's coder updated the button, but failed to perform a browser compatibility check before pushing the code live. Furthermore, no one was monitoring the traffic through the affected sales funnel, so no one had any idea that there was anything wrong until much later. Voodoo Alerts was not yet installed on this website.
Once the client installed Voodoo Alerts, the comprehensive website monitoring service was able to spot the error nearly instantly. As is the case with all new installs, Voodoo Alerts begins with a comprehensive website functionality scan to determine any preexisting site breaks and errors. Voodoo Alerts quickly discovered this incompatibility and alerted the client, who was then able to fix it quickly. All told, this particular button update had been broken for nearly a month before Voodoo Alerts discovered the error.
Once Voodoo Alerts was installed on this client's website, the initial compatibility scan detected the malfunctioning button and allowed the client to get it corrected. Voodoo Alerts was able to estimate that for this website, overall traffic converted at approximately 5%, and IE6 and 7 traffic accounted for about 68% of those conversions. The estimated cost of this error, having occurred for IE7 and below users for nearly a month, amounted to nearly $4,000.
The most important consideration is that these types of errors happen to programmers of varying capability every second of every day. Even the most seasoned programmers have made tiny errors like this, each effecting the website negatively in some way. Most site administrators do not even know that their site is broken. CEO and Founder of Voodoo Alerts, Jon Correll, recalls an occasion where Voodoo Alerts was able to identify an issue that other tests missed. Correll says that "A client of ours had been running a new 'contact us' page for a month, only to realize that you could not even submit the form in Internet Explorer 7 and below. The moment they installed the Voodoo Alerts code, they were alerted that their form didn't actually work. Well, they should have tested it right? They did, they used multiple browser testing software and sites and they all gave it the okay, because bots could still submit, it was only humans that couldn't pass! These are the types of errors that go unnoticed in Google Analytics and other website check tools, yet Voodoo Alerts was able to catch quite quickly."
A common problem with advanced analytics tools like Google analytics is that they require an extremely knowledgeable and dedicated professional to decipher them. Often, even the most advanced user can become overwhelmed by the sheer complexity of the program. Voodoo Alerts is installed on any site with a simple javascript, and begins automatically monitoring around the clock, alerting its user whenever an inconsistency is discovered, taking the monotony and guesswork out of real user monitoring. It is also fully adjustable, keeping track of custom goals and analytics, functions as a website check tool, is fully cloud based, and offers analytics on every individual factor that can affect a site's conversions.
Voodoo Alerts Contact Info:
San Diego, CA
(858) 569-4200
Info(at)VoodooAlerts(dot)com
http://www.VoodooAlerts.com
Twitter: VoodooAlerts
Facebook: Voodoo-Alerts
Sign up for the VA Newsletter: HERE