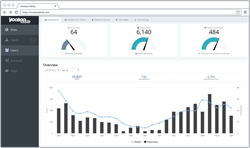 We closely monitor your site for discrepancies and alert you or your web design team personally when your site may be broken, limiting downtime, broken payment funnels, and ultimately saving you money
Dallas, TX (PRWEB) December 13, 2014
With the size of data continually expanding, companies in the e-commerce market often find themselves overwhelmed, partly due to the lack of results from traditional website analytics campaigns. As early as last year, Forbes experts were declaring traditional analytics "no longer sufficient for extracting the insights needed to optimize business plans, product development and customer journeys." This is estimated to be a result of the astronomical proliferation of devices capable of accessing the web, namely mobile devices. Traditional website analytics no longer offers a viable method to adequately track traditional website metrics like user engagement, or unique visitors, due to users owning and accessing websites from many devices. Traditional analytics cannot possibly keep up with the sheer volume of new devices entering the market, each reliant on varying operating systems, browsers, and many other factors that make traditional analytical evaluation nearly impossible for even the most proficient tech teams.
The answer to outdated traditional analytics campaigns, according to Voodoo Alerts can be found in a hybrid website monitoring platform, combining the power of the emerging automated conversion monitoring field with traditional analytics strategies like conversion rate optimization, server uptime checks and more. The Voodoo Alerts website monitoring system seamlessly combines the power of traditional analytics with cutting edge alerting technology, allowing users to analyze data in a traditional way, but also program customized alerts, capable of more effectively tracking events on a website and alerting administrators if anything is amiss. In this way, traditional website analytics can still be effective for companies, while the proprietary notification system adds the all important element of timeliness in identifying website problems, allowing administrators to get them fixed before major revenue is lost due to lost conversions.
Voodoo Alerts provides an entirely new platform upon which traditional analytics can remain effective, yet continue to evolve successfully. New Voodoo Alerts clients receive an initial website optimization service, which completely scans the website for existing broken links, page errors, and other problems that may have been prohibiting full conversion potential. Next, once the client's website has a flawless foundation, Voodoo Alerts can begin closely monitoring traffic patterns, conversion rates across site sectors, funnel monitoring, and much more. Voodoo Alerts does everything that Google Analytics does, only automatically and with amazing precision. The company's website monitoring service can find things like conversion friction, broken "buy now" buttons, and incompatible third party code that may be causing website errors, in the time that it would take a traditional website analytics team days or even months to identify.
As users configure their Voodoo Alerts conversion tracking tools, they will establish thresholds for page and sector performance. What this software has that separates it from other conversion tracking and website monitoring software, is its ability to alert the client in the event of any anomaly.
Conversion Voodoo CEO Jon Correll explains that "With Voodoo Alerts, we don't just give you the same old redesigned Google analytics. We provide customizable, intuitive, and dynamic analytics with a twist. What's the twist? We closely monitor your site for discrepancies and alert you or your web design team personally when your site may be broken, limiting downtime, broken payment funnels, and ultimately saving you money."
Simply add Voodoo Alerts javascript code to any website, set up a goal and add customized alerts, and the software takes care of the rest. An automated system takes care of the rest, alerting the user whenever their website is failing to convert. Voodoo Alerts automatically notifies clients if anything on their website malfunctions and provides every detail from browser, to operating system, device, and much more, so clients can fix errors as fast as they happen, bringing traditional analytics into the new era of website monitoring, and allowing it to work seamlessly with conversion rate optimization and other tried and true analytics techniques.
Voodoo Alerts Contact Info:
San Diego, CA
(858) 569-4200
Info(at)VoodooAlerts(dot)com
Twitter: VoodooAlerts
Facebook: Voodoo-Alerts
Sign up for the VA Newsletter: HERE