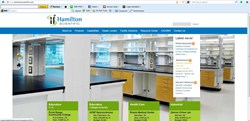 De Pere, Wisconsin (PRWEB) August 13, 2013
Hamilton Scientific, a leading manufacturer of laboratory furniture and fume hoods for the education, healthcare and industrial markets, invites visitors to explore their new website - http://www.hamiltonscientific.com
The new site provides quick and intuitive access to Hamilton Scientific's versatile product lines, as well as an extensive Resource Center, that includes a complete listing of MSDS documents, updated master specifications, concise fume hood technical data, instruction manuals, new project profiles, RSS feeds and much more.
Through the Hamilton Scientific website, customers can now benefit from richer online content that is easier to navigate and share with others, thereby assisting the product selection and specification process. As part of their objective to provide information to the industry, the Hamilton Scientific Informative Website Links provide users with direct links to major trade associations, regulatory agencies and online publications.
Created with the user experience firmly in mind, the new site has been designed using the latest technology, and is compatible with today's browsers and mobile devices.
Hamilton Scientific is one of the world's largest manufacturers of laboratory furniture and fume hoods for the education, healthcare and industrial laboratory markets. Founded in 1880, Hamilton Scientific features highly automated in-house manufacturing capabilities and engineering/design services that allow for consistent high quality products and on-time delivery.