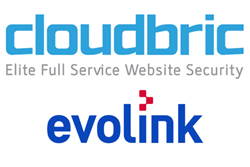 This strategic partnership is a perfect fit in helping us deliver our award-winning WAF to the Balkans and the surrounding Eastern European region.
Houston, Texas (PRWEB) September 28, 2017
Cloud-based website security provider Cloudbric has steadily continued its WAF expansion into Eastern Europe, and together with Evolink, a data center and cloud services provider for the Balkan region, will now be able to expand its security offerings to a wider range of clients from enterprises and SMEs to end users.
In responding to cyber security incidents, Eastern Europe has a proven track record of being one of the most resilient regions in terms of the ability to withstand and recover from cyber attacks, according to research by FM Global Group. However, with Europe's new General Data Protection Regulation (GDPR) directive to go into effect next year, businesses across the entire region will need to deploy security solutions to fend off cyber attacks and protect the unauthorized access or leakage of personal data.
With standards for website security set high in this region, Cloudbric is able to help businesses adequately respond to cyber attacks with its award-winning WAF that protects more than just the common types of attacks. Using a logic-based detection engine comprised of 26 preset security policies, Cloudbric can intelligently recognize and block both unknown and known web attacks, thus delivering one of the lowest false positives rates among industry competitors.
For preventive security solutions to be effective, low false positives rates are a must, and traditional WAFs that generate high false positives due to their detection capabilities relying solely on patterning-matching methods are inadequate in fully protecting businesses. Businesses in Central and Eastern Europe will require further attention as they plan and prepare for these new compliance standards as cyber security incidents rise by approximately 20% on average annually in those regions, according to International Business Group.
Cloudbric's mission is to make it easier for businesses to protect their websites without compromising productivity. With the partnership and the opening of a new IDC (data center) in Sofia, Bulgaria, clients in the region will be able to benefit from highly efficient website security at reduced costs.
TJ Jung, VP of Product & Technology, said, "We are pleased to introduce a security service that is both reliable and affordable so that an even larger audience may reap the benefits of our WAF service. This strategic partnership is a perfect fit in helping us deliver our award-winning WAF to the Balkans and the surrounding Eastern European region. We are excited to see Cloudbric's service grow in protecting business critical information in surrounding borders where data compliance is more than just an industry standard."
Biser Tzonev, CEO of Evolink commented that "Providing a full portfolio of reliable managed security services on the Balkans is a top priority for Evolink. Along with our DDoS mitigation offering, the new partnership with Cloudbric will allow us to address more efficiently the growing need for cyber security to various business customers."
Cloudbric will continue to expand into Europe in its delivery of website security by bolstering its WAF infrastructure and partnership network, with official announcements of new data centers to come in the next quarter.
About Cloudbric
Cloudbric is a cloud-based web security service, offering a WAF, DDoS protection, and free SSL as a full-service package. Boasting 20 years of IT security expertise, Penta Security developed Cloudbric, which utilizes an award-winning logic-based detection engine to filter malicious website traffic with industry-leading precision, delivering one of the lowest false positive rates among competitors. Please visit http://www.cloudbric.com for more information or direct partnership inquiries to cloudbric@pentasecurity.com.
About Evolink
Evolink is a highly reliable partner for Ethernet connectivity, data center and cloud services on the Balkans. Combining its network, data center, cloud and deep engineering expertise, Evolink provides telecom and IT services to enterprises and SMEs, giving them the opportunity to utilize modern technologies in a way to support and develop their business. For more information
please visit http://www.evolink.com.