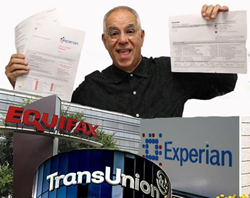 His educational tutorial videos will help control your credit destiny; lead consumers from the depths of credit oblivion, high interest rates, and low credit scores on a path back to credit worthiness!
NEW YORK (PRWEB) April 10, 2019
Consumer credit consultant and author, William "Bill" Natale is launching YouCanChangeYourCreditScore.com. Natale has helped thousands of consumers with their personal credit profiles, and now his techniques are available online.
Natale's video series will help consumers take control their credit destinies, lead them from the depths of credit oblivion, high interest rates and low credit scores back onto a path to credit-worthiness.
For $39.99, users get one-year access of over 90 videos and templates to challenge credit bureaus and force them to delete inaccurate, incomplete, unverifiable information from their profile which will improve their credit and raise their credit score. Members can watch the videos at their own pace and implement the expert techniques Natale has developed over 30-plus years in the industry. The web site is available in English, Spanish and Chinese.
Natale says: People who are denied credit can often feel alone and helpless. There are approximately 315 million consumers with social security numbers, 7 out of 10 consumers 220 million have something inaccurate incomplete unverifiable in their credit profile. 27% 60 million if applied for credit today would be denied credit. Experian statistics show 50 million consumers have credit scores under 599! I call them Sub Primers! Consumers need to know that they Are Not Alone and have the right under the Fair Credit Reporting Act #611 (FCRA) and "Give Credit Where Credit Is Due" Improving your credit profile and raising your credit score will help you qualify to purchase a home, auto, credit cards at lower interest rates saving thousands of dollars which can be used for your children's education, emergency fund or early retirement. Using the techniques I have pioneered over my 30-plus years in the credit consulting industry, they can get themselves back on the path to credit-worthiness! Remember Bad Credit Comes Naturally Good Credit Comes By Design!