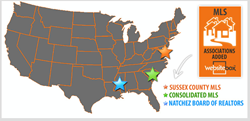 WebsiteBox fulfills our idea of what a website should be.
Toronto (PRWEB) September 24, 2013
WebsiteBox, a leader in affordable, do-it-all real estate website packages, has announced IDX Integration with three new MLS Boards in Delaware, Mississippi, and South Carolina. The announcement follows similar IDX Integration agreements with the Canadian Real Estate Association (CREA), and the South Carolina Real Estate Association, both of which have been successfully integrated with WebsiteBox.
By displaying MLS listings on their websites, realtors can attract buyers for specific properties even when they're not the primary listing agent. Realtors who belong to these MLS associations are beyond happy with their WebsiteBox websites.
"We were looking for a new website provider because we had been through many different providers, none of which could keep up-to-date with the latest technology," says Long & Foster Realtor Jim Malloy, a member of the Sussex County MLS in Delaware. "We turned to WebsiteBox's technology for its ability to meet our needs and its overall excellence; WebsiteBox fulfills our idea of what a website should be.
"We are excited to have an amazing website with integrated IDX, and we plan to use WebsiteBox for our digital marketing as we move forward."
According to WebsiteBox CEO Peyman Aleagha, the key advantage of choosing WebsiteBox is its IDX Integration with local MLS associations, coupled with a complete online marketing toolkit and an unbeatable price, making it the best value website provider on the market.
"Our mobile friendly IDX websites are gaining popularity fast," Aleagha says. "Real estate professionals throughout the country are choosing WebsiteBox because the integrated IDX approach makes real estate websites much more powerful; in fact, we have integrations pending with more than 20 MLS associations, and we are actively seeking new partnerships."
WebsiteBox currently integrates with more than 240 MLS associations in North America and is actively working to integrate more MLS associations with its offerings. Integrated IDX is just one of a long list of powerful tools WebsiteBox provides in its mobile-friendly, state-of the-art websites designed for real estate professionals.
The $99 do-it-all websites provide realtors full control of and accessibility to their own listings, on their own websites and elsewhere, guaranteeing their content is accurate and-up-to-date.
For more information, visit the WebsiteBox.com website, email chad.bhalla(at)websitebox(dot)com, or phone 1-866-857-1657 x.113.
About WebsiteBox:
Launched in January, 2013 by Internet entrepreneur and real estate marketing expert Peyman Aleagha, WebsiteBox is a Toronto-based start-up offering feature-rich, mobile-friendly real estate websites and tools for agents, teams and offices at a one-time, $99 price – the lowest in the market.
WebsiteBox is quickly gaining prominence in both the real estate and entrepreneurial markets. Less than six months after launching as a real estate technology start-up, WebsiteBox™ was named to HousingWire Magazine's inaugural RETech:50 list of top real estate technology firms for 2013, and has been nominated for the prestigious 2013 Inman Innovator Award.
About Consolidated Multiple Listing Service (CML): Consolidated Multiple Listing Service (CML) is a member-owned organization that has been facilitating the listing and sale of real estate in the Midlands area of South Carolina for more than 30 years. CML aims to provide a secure, dependable environment that enables users to serve their clients as efficiently and cost-effectively as possible. For more information, call 803.799.7167.
About: Natchez Board Of Realtors (NBOR): Natchez Board of Realtors (NBOR), located in Natchez, Mississippi, provides real estate and property management services throughout the historic Natchez community. For more information, call NBOR at 601.597.4261.
About Sussex County MLS in Delaware: Sussex County MLS in Delaware helps homebuyers navigate the region's affordable residential real estate market. From the coastal neighborhoods of eastern Sussex to the rural communities of western Sussex and everything in between, buyers can find their dream home. For more information, call the Sussex County MLS at 302.855.2300.
###