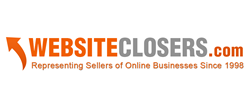 WebsiteClosers.com is a professional Internet Business Brokerage that, in addition to buying and selling Internet websites.
Tampa, FL (PRWEB) September 04, 2014
WebsiteClosers.com is an eCommerce business broker that represents sellers of online businesses. Their experience lies in selling a myriad of web properties including software companies, Amazon businesses, businesses that sell on Sears.com and eBay.com, eCommerce websites and a host of others. They are also skilled in selling businesses that operating within the Internet space, but are unlike traditional online businesses. These include wholesalers, distributors, drop shippers, fulfillment centers, marketing and advertising agencies, Flash Sales sites, Daily Deals sites and more. The company has now announced the availability of eCommerce Website in the Firearms Sector for sale.
A representative of the company, Co-Founder and Executive Director, Jason Guerrettaz, stated, "There is a saying in our business that every deal has nine lives. It takes a skilled Internet Business Broker to successfully navigate through the endless myriad of obstacles in each deal. It is our job as Brokers for Ecommerce Business entrepreneurs to manage the process of selling a business and fix these issues before or as they arise. Both sides have various needs and in a lot of cases emotional issues can override the big picture items of the deal. Managing expectations and keeping an even keel with all parties allows the process to proceed smoothly. Submitting an offer is only the beginning. It is wise deal crafting that allows the lenders' underwriters to approve of our deals – and virtually of all SBA deals we have submitted to banks have been approved for underwriting because we know best how to package and prepare them for the entire process."
The Professional Brokers for eCommerce Business Buying and Selling
WebsiteClosers.com is a professional Internet Business Brokerage that, in addition to buying and selling Internet websites, will also: evaluate your business to determine the best time to take it to market, help you develop an exit strategy based on your post-acquisition needs, market your business with discretion and arrange third party lenders to maximize results for both parties. They can also arrange legal, accounting, tax and/or due diligence help if it is required. As an eCommerce business broker, they handle everything related to the buying and selling of web and digital properties – a full service business brokerage.
About WebsiteClosers.com-
WebsiteClosers.com is dedicated to representing buyers and sellers of online businesses looking to exit. If one wants to learn the process involved in buying and selling websites, it would be smart to contact them and have a conversation with one of their expert brokers. They have experience selling a number of different kinds of businesses, including e-commerce websites, software companies, Amazon businesses, eBay businesses, and a number of other digital assets that support Internet companies. They also have experience owning and operating these same companies. They are unmatched when it comes to achieving success in selling an eCommerce site.
For more information, please visit- http://www.websiteclosers.com.
Contact Details-
Phone: 800-251-1559