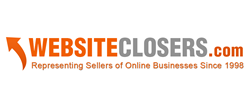 WebsiteClosers.com brings to the table their 20 years of experience in M&A as well as having owned, operated and sold a great number of Amazon companies.
Tampa, Florida (PRWEB) December 13, 2014
WebsiteClosers.com is a boutique business brokerage, headquartered in Tampa, Florida, that is in the business of matching the right buyer to an entrepreneur that is considering an exit strategy as it relates to selling a website, an online business, a marketing company, a software application or any other digital asset. While some business owners might consider attempting to sell a business without the expertise of a Technology-Focused brokerage, there are hundreds of reasons why this is a bad idea. And just one of those reasons includes dealing directly with buyers. Without having a business broker involved that operates in the Internet Segment, and that has a network of hundreds of Banks and Private Equity Groups, a business owner is leaving money on the table and forgoing a much higher selling multiple than what they could achieve if Website Closers is managing the buyer pool.
Website Closers has an expert understanding of the SBA Financing options available to a Buyer, so their team of brokers can begin working directly with potential buyers from day one to get them prepared to buy a company represented by the firm. If an entrepreneur is attempting, as an example, to identify where to sell an Amazon business, WebsiteClosers.com brings to the table their 20 years of experience in M&A as well as having owned, operated and sold a great number of Amazon companies. This experience, plus their network of Preferred SBA Lenders will help them hone down the buyer pool to just those that can easily traverse the SBA process. This is critical because by adding in those buyers can put down less money and have the business pay for itself, the buyer pool becomes much wider. If an entrepreneur is attempting to sell a web company herself, she would be unable to attract the attention of such buyers.
For those looking for an answer to the question, "How do you sell a website?" a representative of WebsiteClosers.com offered this response, "99% of FSBO (for sale by owner) sales are unsuccessful. That is because in general, people do not know what to look for in a Home Run Buyer. You need to be objective enough to filter out the Tire Kickers – people who dally in the idea of website buying, but never actually get around to it. You also have to be savvy enough to filter out the Confidential Information Trolls, those who are looking to perform due diligence on a company to use that information to create their own website, and you need to know about buyer liquidity. Because WebsiteClosers.com has 20 years of experience and established relationships with banks both regionally and nationally, we know how to find Home Run Buyers; therefore, banks take our deals very seriously."
About WebsiteClosers.com:
WebsiteClosers.com, a leading website business brokerage, is dedicated to representing those selling internet businesses, software and app companies and other technology assets. If one has a website business or other technology company, with an eye on developing an exit strategy, simply give them a call or send them an email to learn more. All messages are responded to same-day – no exceptions. They have experience buying, selling and owning a number of different kinds of Internet businesses, including e-commerce websites, software companies, sell Amazon Company, eBay businesses, and other digital assets. Because of this experience, they are in the best possible position (compared to other business brokers) to get a tech deal closed fast while maximizing the sales price.
Contact Information:
Website: http://www.websiteclosers.com
Phone: (800) 251.1559
Email: info(at)websiteclosers(dot)com