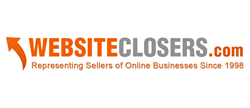 WebsiteClosers.com is a website business broker with over $60 million in successfully sold web and tech companies to date.
Tampa, Florida (PRWEB) April 22, 2015
WebsiteClosers.com is a website business broker with over $60 million in successfully sold web and tech companies to date. They provide a set of strategies to their clients to help them through every business acquisition. An online business can be purchased utilizing several different financing tools. Those selling a website usually ask for the maximum reasonable price, and so it's important for the buyers of these businesses to have a number of financing options available to them.
A spokesperson from this website business broker firm, Ron Matheson, Senior Director, talked about the different deal financing options available: "Although this is rare, there are all cash deals occasionally. This might seem like the best of both worlds, but in reality, if all cash is being used, the person selling a website isn't getting the full potential of their assets. There is also seller financing. In this case, a promissory note is created between the buyer and the one selling a website. This promissory note outlines the terms and conditions under which some or all of the purchase price is to be paid. Seller financing is very common in this industry. The other opportunity is through bank lending. If not for bank lenders, the mergers and acquisitions world would grind to a halt. They provide the much needed capital to drive the sale of businesses and are a critical piece in expanding the online business industry. As a website business broker with decades of experience in this industry, we are experts in matching banks and lenders with business deals, simply because, it's what we do."
About WebsiteClosers.com:
WebsiteClosers.com is a leading website business brokerage. The team behind the firm is dedicated to representing those looking to buy or sell Internet businesses, websites, software and app companies, digital media companies and other technology assets. If one has a website business or other technology company, with an eye on developing an exit strategy, simply give them a call or send them an email to learn more. All messages are responded to same-day – no exceptions. They have experience buying, selling and owning a number of different kinds of Internet businesses, including e-commerce websites, software companies, Amazon Companies, eBay businesses, and other digital assets. Because of this experience, they are in the best possible position (compared to other business brokers) to get a tech deal closed fast while maximizing sales price. With WebsiteClosers.com, you get professional experts in the industry.
Contact Information:
Website: http://www.websiteclosers.com
Phone: (800) 251.1559
Email: info(at)websiteclosers(dot)com