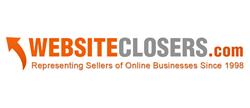 WebsiteClosers.com is a boutique brokerage firm that sells web properties and tech companies.
Tampa, Florida (PRWEB) January 07, 2015
WebsiteClosers.com is a boutique brokerage firm that sells web properties and tech companies. The company has been successfully selling technology companies, amazon companies and websites for high multiples for twenty years, and to date boasts an impressive $600,000,000 in sold web and tech companies. As a full-service web broker, they take pride in the many steps, processes and strategies they have developed over their many years in the business.
When asked about some of these processes, a spokesperson from WebsiteClosers.com replied, "For entrepreneurs who are wondering how to sell an Amazon business, or how to sell a website, we tell them that one of the aspects that must be tightly adhered to is confidentiality and non-disclosure. Without confidentiality, you run the risk of creating an environment of fear and trepidation for your employees which in turn causes them to under-perform. Also, potential buyers should not be made aware of the business's suppliers, vendors or third party relationships because some nefarious buyers might be looking to snag the business out from under the owner. Sniffing out bad buyers is one of the things WebsiteClosers.com does best. If you're looking to sell your website business, it's good to know that at WebsiteClosers.com, they maintain confidentiality as strictly as possible for the benefit of everyone involved in the transaction.
About WebsiteClosers.com:
WebsiteClosers.com, a leading website business brokerage, is dedicated to representing those selling internet businesses, software and app companies and other technology assets. If one has a website business or other technology company, with an eye on developing an exit strategy, simply give them a call or send them an email to learn more. All messages are responded to same-day – no exceptions. They have experience buying, selling and owning a number of different kinds of Internet businesses, including e-commerce websites, software companies, sell Amazon Company, eBay businesses, and other digital assets. Because of this experience, they are in the best possible position (compared to other business brokers) to get a tech deal closed fast while maximizing the sales price.
Contact Information:
Website: http://www.websiteclosers.com
Phone: (800) 251.1559
Email: info@websiteclosers.com