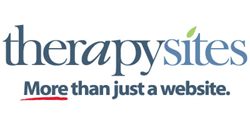 'In today's world, with nearly 3 billion Internet users worldwide, having a web presence isn't just a luxury anymore, it is essential to your business.'
Downers Grove, IL. (PRWEB) August 14, 2014
TherapySites, the leading website and online marketing company for mental health professionals, announced today its affiliation with the American Professional Agency. This new relationship allows TherapySites to continue to extend their online marketing solutions to the network of the American Professional Agency, adding exclusive benefits and promotional offers.
"In today's world, with nearly 3 billion Internet users worldwide, having a web presence isn't just a luxury anymore, it is essential to your business," said Tracy Wasinski, Business Development Coordinator at TherapySites. "That's why we're proud to provide comprehensive websites to mental health professionals, and why we're making these crucial online resources more readily available through our new exciting partnership with the American Professional Agency."
As an added benefit, American Professional Agency members will receive their first month free with TherapySites by entering promo code "APAPRO". For more information about how to start building an online presence, visit http://www.TherapySites.com.
About the American Professional Agency:
Focusing on professional liability insurance with special emphasis in the mental health field, American Professional Agency (APA) has grown to be the largest writer of mental health professional liability insurance in the United States. With over 100,000 policyholders, APA ranks in the top 100 insurance brokerages in the country. APA, Inc. maintains a staff of over 65 people who have been cross-trained in each department. Their state of the art computer system is constantly upgraded to meet the needs of their clients and they use the most comprehensive software programs in the agency field which has been developed by them over the last 30 years.
About TherapySites: Websites for Therapists
TherapySites specializes in creating websites that are engaging, professional, cost-effective, and extremely simple to maintain, helping mental health professionals successfully market and manage their practice online. The TherapySites package includes everything necessary for a professional online presence, including basic search engine optimization (SEO), integrated email & editing tools, credit card processing, and online appointment notifications, all with no contracts or setup fees and unlimited technical and customer support.