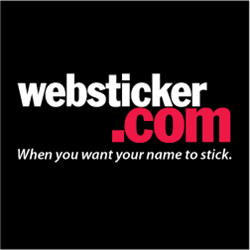 Stickers have become an important marketing tool in the action sports industry that simply can't be ignored.
Stowe, Vermont (PRWEB) November 25, 2014
Websticker.com (https://www.websticker.com/) created customized promotional stickers for Ski Nation (http://www.skination.com/) that aim to drive mobile App downloads and contest participation among skiers and snowboarders.
"Ski Nation is a great client. The custom stickers that we produced for them not only helped launch and promote the Ski Nation App/Community but also are an important part of the contest they are running through the App. The stickers have been very well received. Stickers have become an important marketing tool in the action sports industry that simply can't be ignored," said Jeff Nicholson, Owner and Marketing Director at Websticker.com.
The stickers designed by Websticker.com for Ski Nation include a secret hidden clue to solve a puzzle for entry into a contest to win a trip to the World Ski & Snowboard Festival Whistler-Blackcomb, B.C. April 10-19, 2015. To be entered in the drawing, skiers and snowboarders must download the Ski Nation App by January 31, 2015 and must collect the hidden "First Tracks" ski pin on the App.
The clue on the sticker can be found in what appears to be a white line around the border of the promotional sticker. Additional clues will be released through the Ski Nation App, Facebook, and Twitter platforms as well as at participating ski areas. There is no cost to enter or participate. A random drawing will be made among all skiers and snowboarders who download Ski Nation and find the First Tracks pin. Winners will be notified by February 15, 2015. For more information please visit: http://www.skination.com/contest/
"Websticker.com is awesome and many of us in the ski industry have worked with them for years. The Ski Nation sticker is especially cool because it ties into the First Tracks contest," said Jack Turner, Founder of Ski Nation.
About Websticker.com
Websticker.com is a marketing firm specializing in the design & printing of custom bumper stickers, decals, labels & magnets. They create high impact promotional stickers & profitable sticker products for businesses and organizations across the U.S. Based in Stowe, Vermont since 1991, Websticker.com goes above and beyond to save customers money and create the most powerful and effectively designed stickers possible and guarantees all work. Visit Websticker.com on Facebook at https://www.facebook.com/websticker and on Twitter at https://twitter.com/websticker.
About Ski Nation
Ski Nation was founded by former U.S. Ski Team members Jack Turner and Olympic Gold Medalist and World Champion Billy Demong. Ski Nation is the first mobile application that identifies every ski area in the U.S. and Canada regardless of their size or type. Track every place you ever skied, every season, and all your days on snow. Collect online pins for every visit and share with friends. Help build the Independent Skier Network that will allow you to review insider offers and information from ski areas, gear makers, and shops without compromising your personal information.