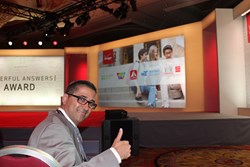 We are proud to receive this award and look forward to working with a company who shares our vision for solving the global challenge of autism
Las Vegas, Nevada (PRWEB) January 08, 2014
WebTeam Corporation has been awarded $500,000 in prize money for its innovative autism management technology in Verizon's Powerful Answers Award contest. Verizon CEO and Chairman Lowell McAdam announced the winners of the year-long contest today at the 2014 International CES.
WebTeam, a Somerset, NJ-based information technology company, was one of five winners in the Education category and was recognized for its individualized intervention programs for autistic individuals using mobile and wireless technology.
"We are proud to receive this award and look forward to working with a company who shares our vision for solving the global challenge of autism," remarked Nish Parikh, WebTeam Chief Executive Officer, who has pioneered technology for special needs education since 2005. "The opportunity to leverage Verizon's assets and its focus on innovation is a huge step forward for the autism community."
"In the United States, 1 in 50 school children has autism," stated Mr. Parikh. "Individualized and intense intervention is the key to making these individuals independent. Our mobile apps and kiosk-based programs utilize evidence-based Applied Behavior Analysis (ABA) methods to help teachers engage more students and help parents extend classroom training into the home. As school districts struggle to serve the growing number of children diagnosed with autism, we can offer a cost-effective solution for intense intervention utilizing mobile and wireless technology."
Through its Powerful Answers Award, Verizon offered $10 million in prizes for innovators and companies proposing the most innovative solutions utilizing Verizon's unique combination of network, device and platform technologies to help to solve problems and create solutions in one of the award's three core focus areas: healthcare, education and sustainability. Other criteria included, but were not limited to, how the solution addressed a societal challenge, the strength of the product or innovation, and the feasibility of bringing that product to market.
A panel of blue ribbon judges representing a wide range of innovative companies, academia and industries selected five winners from the finalists in each category, with the top prize being $1 million. The other four winners, as determined by the judges, received $850,000, $700,000, $500,000 and $285,000 respectively. In addition to receiving the prize money, winners of the Powerful Answers Award will be introduced to people throughout Verizon to discuss their ideas/concepts and technology.
Mr. Parikh admits that the road to the final selection process has been a long and competitive one, as 1,300 entries from around the world were submitted by the June 30, 2013 deadline. WebTeam and other select entrants were asked to submit a full proposal by August 15, 2013. In the final phase of the contest, the top 10 entries in each core area were invited to pitch their idea to a panel of renowned judges in San Francisco in late October.
In San Francisco, Mr. Parikh and Thomas McCool, Ed.D., President and Chief Executive Officer of Eden Autism Services, presented WebTeam's proposal in an inspirational appeal on behalf of the autism community.
"The end goal was not just to raise money, but also to make a difference with a powerful solution to tackle the global challenges presented by autism," commented Manish Patel of The Think Cloud, who was also part of the preparation team.
"We felt very optimistic after the presentation," says Mr. Parikh. "The judges asked many questions and we talked at length about improving the lives of those touched by autism through mobile and wireless technology."
"Now, the prize money and opportunities to collaborate with Verizon's engineers and business development specialists will help expedite our research and development efforts, fund pilot programs in schools and nonprofit organizations, and put vital educational technologies into the hands of the children, parents and educators who need it most," added Mr. Parikh. "Our vision is to be highly innovative in the area of mobile and touch screen computing, using cameras and voice-related technologies to create new products and services for the education and health care industries for autism intervention."
"Our employees were really excited to see us achieve this type of recognition in a global competition," says Hetal Parikh, President of Rangam Consultants, WebTeam's parent company, which provides software development support for WebTeam's educational initiatives and was recently recognized by the New York & New Jersey Minority Supplier Development Council at the 2013 Sustainability Summit for its pioneering initiatives in the area of autism intervention and management. "They are proud to play a role in a corporate initiative that addresses real world problems."
About WebTeam Corporation
WebTeam Corporation was incorporated in 2005 in New Jersey to design, develop, and promote technologies for education and distance learning and training. It began as a technology development subsidiary of Rangam Consultants Inc., a company specializing in professional staffing services.
WebTeam Corporation was founded at a time when autism intervention in the classroom was largely unstructured. Back in 2007 and the ensuing couple of years, WebTeam was busy experimenting with a few technologies to ascertain if teachers could benefit from using touchscreen kiosks in the classroom. The experimentation led to the development of S.H.A.N.E.S.H. Colors Program, which, together with the app-based iLearnNEarn program that was put to use in 2011, charted a new horizon in autism treatment by extending classroom intervention to homes and therapy centers globally. Since January 2012, WebTeam's autism apps have registered 1.2 million downloads across iTunes, Google Play, Nook and Kindle, while delivering 10,000 daily sessions on average.
For more information about WebTeam's collaborative initiatives, programs and apps, visit: http://www.webteamcorp.com.
For more on WebTeam's road to success in the Powerful Answers Award Contest, visit:
http://www.youtube.com/watch?v=-zQqDfC9omk&feature=youtu.be
About the Powerful Answers Award
For more information about the Powerful Answers Award, visit:
http://www.verizon.com/powerfulanswers/award/