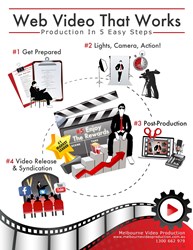 ...business must have some form of video to present to potential clients and customers
Melbourne, Victoria (PRWEB) September 04, 2013
On 19 August 2013, the latest video rankings were released by comScore, a leading internet technology company that provides analysis for web videos. Shortly after the data release, the team of web video & marketing experts at Melbourne Video Production saw a significant rise in interest for their services. "They confirmed what we already knew and were telling clients," says the company's Director Mr. David Jenyns about comScore's findings, "That a majority of people online watch web videos, nearly 87% in fact. The announcement made a few fence-sitters decide it's time to get in the game."
Within the world of business, testing new marketing techniques can be bittersweet. The results can be either highly rewarding or completely lackluster. However, one sure thing about trying a new strategy is that it involves spending money. This uncertainty though, is one of the main reasons why businesses have yet to fully embrace online video's place in their marketing budget.
Fortunately, a few years ago the online marketing specialists Melbourne SEO Services recognized the web video niche as vital for the survival and success of businesses going forward. So they created a sister company called Melbourne Video Production.
The goal for the video production company has been to create affordable and effective video marketing for businesses of all sizes. In doing so, Melbourne Video Production created both set-price video packages as well as custom video and studio hire.
The comScore data indicated the average watch time for viewers is just over five minutes, "of which perfectly suits all our video packages," remarks Mr. Jenyns, "because we create between one to five minute long videos for our clients, depending on which package they've selected." The short length of the web video & marketing company's outputs "ensures viewers will stay captivated and get the message before they drift away after the five minute mark hits."
Shortly after the digital data was released, the demand for Melbourne Video Production's services increased, "sometimes it takes just that little bit of extra information to convince people that something's worth doing" remarks Mr. Jenyns. He goes on to say "we've been telling our marketing clients for years that web video is the 'lowest hanging fruit' out there, and now that a reputable analysis company's findings have backed our beliefs, those sitting on the fence have finally come over."
With 86.6% of internet users watching videos online, "it goes without saying that a business must have some form of video to present to potential clients and customers." The Melbourne-based company's director goes on to explain client hesitation, "not everyone knows what's involved or where to start. The idea of creating a video sounds daunting for most, but that's why our packages are structured the way they are."
Mr. Jenyns' team of professionals offer three set-priced video packages, including: "Your Story", "Testimonials" and "FAQ". He comments, "those are the most effective and popular video types for businesses, and are fully inclusive of our help from end to end."
Melbourne Video Production also offer custom videos "which our clients usually take up after they've established the more popular ones first, or if they have something specific in mind. Our corporate clients have even used them for internal updates and training."
In mid-August, an analysis was revealed showcasing the increasing trend of internet users and online video viewership. The statistics show that a majority of people online watch web video. The reputable report's release correlated with web video & marketing company Melbourne Video Production experiencing an increase in demand for their services. Mr. Jenyns adds a final comment advising businesses "to start using web video now. It's much more affordable than most think and a lot more effective than traditional marketing methods." To learn more about Melbourne Video Production's set-priced packages and custom services, visit http://www.melbournevideoproduction.com.au/
About Melbourne Video Production
Melbourne Video Production is a division of MelbourneSEOServices.com, a full service search engine optimization (SEO) consultancy, based in Australia, but with a worldwide client base.
Melbourne Video Production has the unique ability to combine their web video expertise with strategic SEO practices from Melbourne SEO.
Director, David Jenyns, has, over several years, built a team of experts who are niche experts to support the business, and who share his ethos for ethical, professional internet marketing and web video.