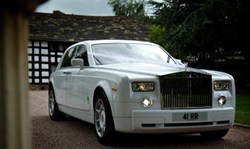 Manchester, UK (PRWEB UK) 3 September 2013
The newly-formed 'People to Places Group' now has three distinct divisions to handle the three-cornered core of services.
'People to Places Wedding Cars' continues to provide an award-winning fleet of high performance wedding cars in Cheshire. Supplying luxury wedding cars for some 300 high-end wedding packages each year - from the popular Aston Martin DB9 to the 2-door Bentley GT or the favourite 19-foot long Rolls Royce Phantom.
'People to Places Events' will handle the group's wedding, corporate parties and private themed celebrations on a UK or worldwide scale - from a VIP chaperoned night-out to a prestige dream holiday.
An international sourcing and importing service can also bring new innovative decoration and furniture designs into the country to add an extra 'wow' factor to status UK occasions.
'People to Places Concierge and Hospitality' features licensed access to Manchester United hospitality facilities and Old Trafford's Executive Club but can arrange VIP tickets for a range of national and international sporting events and concerts.
The 'can do' business fields a range of enquiries from special requests for premium matches at Europe's most iconic football stadiums to bespoke weekend breaks in luxury destinations complete with prestige cars, chauffeur driven tours, the best restaurant tables, personal shoppers and, if necessary, professional security services from approved and experienced personnel.
The group's three core businesses will now stand alone but work together when appropriate to deliver a convenient cross-combination of round-the-clock services.