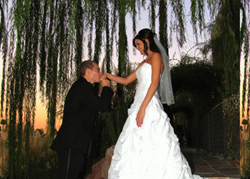 We are excited to extend the paid in full promotion to couples who come to Las Vegas to get married. To take advantage of the special be sure to mention "Paid in Full" when you book
Las Vegas, NV (PRWEB) July 24, 2015
It's not hard to save money on Las Vegas weddings thanks to Always & Forever Weddings and Receptions. The long-time Las Vegas based firm is announcing an extension of its "Paid in Full" special that gives happy couples 20% off their wedding chapel packages when paid in full at the time of booking.
"We are excited to extend the paid in full promotion to couples who come to Vegas to get married. To take advantage of the special be sure to mention "Paid in Full" when you book," said Owner and lead consultant Raquel Ryan.
Always & Forever are known for their awe-inspiring venues and low prices. They are proof that Las Vegas wedding chapels can have romance and class – not just cheesy décor and bad Elvis impersonators.
Couples can select from one of the many packages or build their own unique wedding experience starting at just a few hundred dollars. Locations include their indoor chapel, Lakeside Garden, Lakeshore Gazebo, Grand Lakeside, and Valley of Fire. Couples can choose from ceremony only, reception only, or all-inclusive wedding and reception.
"We've recently revamped our website so it's never been easier to browse our offerings and select the elements you want. You can even book online using our online booking engine. And of course if you have questions, you can always call one of our friendly consultants who can also book your event over the phone as well," Ryan said.
To learn more about the 20% off special, visit Always & Forever Weddings and Receptions at http://lasvegaswedding4u.com/product-category/chapel/
About Always & Forever Weddings and Receptions
Always & Forever Weddings and Receptions is the leading Vegas wedding consultancy known for its outstanding service, beautiful outdoor weddings in Las Vegas, and great prices. Award-winning wedding planner Raquel Ryan founded the organization.
Always & Forever Weddings and Receptions specializes in offering clients the best venues, services, and consulting for Vegas based weddings and receptions. They offer a variety of Las Vegas wedding chapel packages or can help plan an individual event based on the specific needs of their clients. Known for their high level of service and gorgeous venues, Always & Forever Weddings and Receptions attracts clients from across the globe.