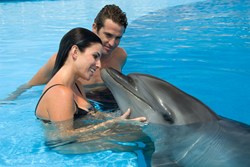 One of the most requested activities from our wedding and vow renewal clients

Mark Steffan
Honolulu, HI (PRWEB) July 25, 2013
Maui'd Forever, Hawaii's premiere wedding planning and coordination company is dedicated to being an effective and cost effective way to provide for one's entire Hawaii wedding, reception needs. They have partnered up with Tom Barefoot's Tours providing an activity agent that gives experienced advice and discounts on most of Hawaii's activities.
They have just released a new YouTube video that shows an experience many of Maui'd Forever's wedding client ask about, swimming with dolphins. Their clients have told of the romance and adventure associated with these friendly ocean going mammals.
Difficult to arrange in the wild this excursion is located on the Island of Oahu. On the Eastern Shore lies Sea Life Park, an aquarium the whole family can enjoy offers this hard to reserve experience. The only other Hawaiian Island that offers a captive dolphin swim is on the Big Island of Hawaii.
This regularly scheduled event is very limited to the number of people that can interact with the dolphins so an early reservation is required. This is another in a series of informative videos that is being made available to the wedding and vow renewal clients of Maui'd Forever. Maui'd Forever owner Mark Steffan tells us "that my knowledge of the Hawaiian Islands can be a great guide to clients seeking advice on what they should do while on Oahu. I just need to know who they are what they like to do and of course what they are capable of doing".
With these ongoing video productions, Hawaii activity clients can accurately preview what they are getting involved with. Getting to Hawaii is usually a long plane ride and a costly vacation and many prefer not to waste valuable time and money doing an activity that is just not right for them. These previews help prevent these types of mistakes. Maui'd Forever clients also get an experienced activity agent to assist them in the process of determining how they want to spend their time and money.
These agents have experienced many of the activities personally. Maui'd Forever suggests to their wedding and vow renewal clients that they preview the activities they think they might enjoy with links to YouTube videos or the profiles with pictures on their website.
This expert advice is one of the reasons why Maui'd Forever selected Barefoot. Most of the activities they provide are done so at a discount. So with the ability to reserve most any activity on any island at a discount with expert advice was what swayed Maui'd Forever to work exclusively with Barefoot. The clients are given a discount code (#1659) which they use when they speak to their agent. The discounts are already calculated into online sales for those that want to self book on the website.
Maui'd Forever provides the link and code for those that use any of their wedding or vow renewal packages. They can do these packages on Oahu, Maui, Kauai and the Big Island of Hawaii.