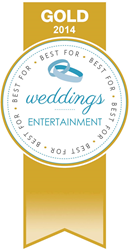 Simon Harding, founder of Sirotechnics commented, 'We're extremely proud to receive this award and will continue to strive to deliver the best in Wedding Firework Displays for our clients.'
Solihull, Birmingham, England (PRWEB UK) 2 June 2014
The good news keeps rolling in for wedding firework display company Sirotechnics Fireworks. In the latter half of 2013 they were crowned the British Pyromusical Champions, and now another Gold Medal in the form of the Best For Weddings Entertainment category.
Up against many other forms of entertainment, wedding fireworks have been named the top extravagance add-on for your wedding in the coming years. As a leading provider of both fireworks and fireworks to music, Sirotechnics have been awarded the Gold Medal of Excellence, showing they really are a top choice for your celebration.
About Sirotechics
A family-run business with over 50 years of experience, working at home and abroad, their experience is unparalleled.
Wedding fireworks add that special touch to your special day. Have you imagined the look on your guests' faces when you tell them what awaits them outside? You can now even have your names and initials in fireworks, called lancework; it really will make your display stand out. Surprisingly, they are also affordable. When you compare a firework display against other forms of entertainment, it is something that will be remembered and different; a sure talking point for years to come with your friends and family. When you choose to set it to music too, film it, and have something totally unique and designed for you to keep for life. Watch the fireworks dance to the beat of the music! WOW!
So what's next? Sirotechnics hope to be working more on the international display circuit in the near future, proving their competence even further at some top international competitions; they seem to have a taste for awards, I wonder what award they will get next?!