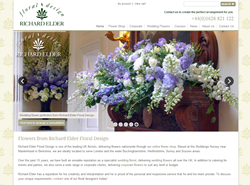 We received so many wonderful comments about the flowers from our guests and you have truly exceeded our expectations.
Maidenhead, Berkshire (PRWEB UK) 31 January 2014
Richard Elder Floral Design, the premier florist in the Maidenhead and surrounding area has launched a new version of their popular website, making online ordering even easier.
To the casual observer it looks quite similar to their old website, but there appear to be a number of subtle yet important enhancements for 2014. Improved load times, less clicks to enter order details and a fully optimised view of the site on smart phones are some of the things that stand out.
The new website is the perfect complement to the studio, and the excellent customer service they provide. They provide Flowers for all occassions, including a specialism in providing floral displays for Corporate Events and Parties. However they are best known for their expertise with stunning Wedding Flower arrangements.
Richard Elder from Richard Elder Floral Design said, "We offer a free wedding flower consultation at the Glasshouse Studios where we can give advice on seasonality of flowers, all design aspects from bouquet styles to venue decoration and how to get the best value for money within the budget. Just call or email to arrange a consultation and we'll work out a wedding flower package which is right for you."
"Although Richard Elder Floral Design specialises in providing wedding flowers in Maidenhead and the wider Henley, Windsor, Reading and Bracknell areas, we regularly supply wedding flowers all over the UK. We have developed an enviable reputation in the wedding flower sector, one which we're extremely proud of."
To obtain more information on Richard Elder's range of wedding flower designs, visit http://www.floraldesign.co.uk or give them a call on 01628 821 122.
You can also check them out on Facebook: https://www.facebook.com/RichardElderFloralDesign or follow them on Twitter: https://twitter.com/elderfloral.
ABOUT RICHARD ELDER FLORAL DESIGN
Richard Elder Floral Design was established over 15 years ago and is recognised as one of the leading floral design companies in the UK. Situated in the Stubbings Estate and Nursery near Maidenhead (Berkshire), Richard Elder Floral Design is ideally located to serve both London and the Home Counties. As a specialist in floral design, Richard Elder serves a growing list of corporate clients, luxury hotel brands and restaurants across London and the South-East. From corporate flowers in London to unique floral designs for private weddings and parties, Richard Elder has developed an enviable reputation for creativity and interpretation.