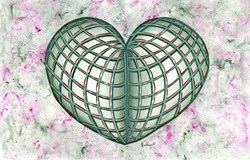 Perfect for a wedding guest book, wedding showers, baby showers, celebrations, anniversaries or birthday parties
Sacramento, PA (PRWEB) September 10, 2013
KEE Kreations announces new and unique wedding guest book ideas for special occasions. Known for creating memorable and accessible art that can be personalized, KEE Kreations designed "Rooms in My Heart" art prints to be used as a remembrance for the married couple. The print will be a reminder of those people who joined in celebrating the wedding day, and more important, who hold a special place in the married couples' hearts.
Perfect for a wedding guest book, wedding showers, baby showers, celebrations, anniversaries or birthday parties, this art print includes ample space for guests to write their names in the spaces of the heart or encouraging notes on the spaces around the heart. Poems, quotes and Bible verses can also be written in the available space. Add matting to increase the writing space for larger parties.
"Rooms in My Heart" also provides a memorable piece of artwork for the wedding couple to hang in their home, reminding them of their vows, and love for each other, long after the ceremony day is over.
For more information about "Rooms in My Heart" wedding ideas, visit http://www.KEEKreations.com or email Karen at kerdman(at)keekreations(dot)com. KEE Kreations has been presenting quality art since 1985, with an emphasis on personalization and unlocking the door to meaningful aesthetics for customers all around the country.
Media Contact
Karen Erdman
570-640-8622
karen(at)keekreations(dot)com