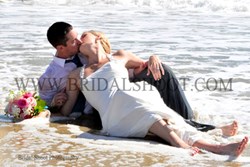 Wedding Guide BridalShow.Co Celebrates 100 Vendors From Wedding Venues and Photographers Signing Up To Advertise To Brides Wedding Planning.
New York, NY (PRWEB) September 10, 2013
Bridal Shows, wedding guides, and word of mouth have been the dominant means of advertising for all types of wedding vendors nationwide from wedding photographers, wedding planners, to wedding venues in North Carolina. That is why BridalShow.Co is proud to announce their 100th wedding venue as an advertiser on their online bridal show and wedding guide.
The owners of BridalShow.Co feel that reaching 100 advertisers is not a huge number but as a new resource for wedding planning online in a very competitive market they are more than pleased with the amount of vendors signing up in such short time. According to the owner in the past word of mouth, wedding directories, and physically attending a bridal show for the top wedding vendors was a necessity for brides in the wedding planning process. The owner also states that was once an essential need for wedding vendors who wished to advertise. At BridalShow.Co they feel the best modes of advertising has changed in recent years because more people are using the internet for their everyday needs which means more brides are using the internet to research information about prospective wedding vendors which makes online wedding guides more valuable to wedding vendors and engaged couples planning a wedding. As a research and marketing tool they also feel that having the catchy name BridalShow.Co is equally appealing to brides who are wedding planning and vendors looking to advertise their small business and services on their website.
The owner states even thou they operate a very good wedding guide and technically what some call an internet based bridal show they are also a small business and understand the needs of small businesses in the wedding industry. They feel that their knowledge has been helpful to many from New York wedding venues in NYC, Albany, Brooklyn, Long Island, Rochester, and other popular NY locations for marriage to North Carolina wedding venues in the Outer Banks, Charlotte, Wilmington, Raleigh, Greensboro and beyond. No matter what city or town according to BridalShow.Co most wedding vendors are small businesses and get a better return on their investment when advertising with companies like theirs that understand the needs of small business in the wedding profession. In the next four months they aim to help more vendors across the country from South Carolina wedding venues in Charleston, Hilton Head Island, and Myrtle Beach wedding locations to the west coast with California wedding venues in San Diego, Orange County wedding vendors, San Francisco wedding locations, and wedding venues in Los Angeles.
They are looking forward to more growth at BridalShow.Co as other wedding vendors sign up daily in every market and service from Tampa and Miami wedding venues in Florida, North Carolina bridal shows in Charlotte, New York wedding photographers, South Carolina wedding venues and planners, Atlanta or Savannah wedding venues in Georgia, Norfolk or Richmond Virginia wedding photographers, to California bridal shows in San Diego, Sacramento and much more. They attribute some of their growth to aggressive marketing and very competitive rates for local and destination wedding companies as they celebrate this week the recent wedding venues, wedding photographers, and wedding planners that signed up to market their company and service.