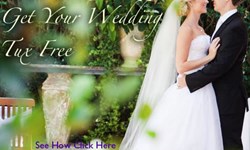 ."Now, we are giving away the groom's tuxedo if you buy the wedding party tuxedos from us."
(PRWEB) January 31, 2014
TuxedosOnline.com has released a remarkable new discount offer. Now with purchase of tuxedos for a wedding party of five or more, a groom's tuxedo of equal or lesser value is free. This exceptional deal ensures that grooms and groomsmen are dressed with style and sophistication during one of most important days of a man's life.
"For many years rental tuxedo shops have given away a complimentary tuxedo rental with the rental of the tuxedos in their wedding party," TuxedosOnline's CEO, Vrej Grigorian, states. "Now we are giving away the groom's tuxedo if you buy the wedding party tuxedos from us." By choosing to buy a tuxedo, instead of rent, the groom and groomsmen will have a brand new tux to wear for any future black-tie events. In addition, TuxedosOnline ensures the cost of buying a tux is just as cheap as renting.
Because TuxedosOnline directly manufactures many of their tuxedos and menswear accessories, the company offer prices that are comparable to—or even lower than—the cost of rental. By buying a tux, grooms and groomsmen can rest assured, knowing they've purchased their tux well in advance, rather than rushing to rent at the last minute.
Anyone who has questions about tuxedo styles, colors, or other styling details, should complete TuxedosOnline's wedding consultation form to be contacted by an experienced wedding consultant. For those who want to liven up a black tuxedo, colored vests and cummerbunds are a perfect choice. Different fabrics can help men create a distinguished, unique look.
In addition to wedding tuxedo packages, TuxedosOnline offers a variety of tuxedo and formalwear accessories, including cufflinks, cravats, hats, and more. For more details on TuxedosOnline's wedding tuxedo packages, visit the website.
About:
TuxedosOnline.com has been named "Best of the Web" by USA: Tuxedos since 2008. The web-based vendor is the internet superstore for men's formal wear tuxedo shirts, tuxedo vests and tuxedo uniforms and is one of the oldest companies to sell tuxedos on the internet. They are highly rated on bizrate.com, eBay, and other internet rating services. Although the tuxedo rental industry has reported declines in the amount of rentals for the past few years, TuxedosOnline.com has grown over 40% a year for the past three years.
For the full range of tuxedos, including wedding tuxedos, accessories, shoes, and shirts, as well as the entire MODA Formalwear line, visit TuxedosOnline.com or call (818) 765-9479 or (888) 968-4TUX.