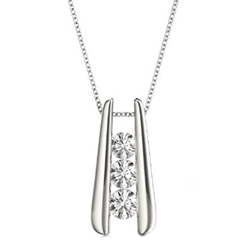 NEW YORK (PRWEB) July 27, 2021
We all know that a bride's Wedding 'To Do' list is a mile long. In an effort to alleviate some of the burden, LovBe, the e-commerce lab grown diamond brand, is assisting brides by helping them cross off one of the most important tasks: selecting wedding day gifts for their nearest and dearest. A token of gratitude marking this memorable occasion, on this special day, not just any gift will do. LovBe is debuting a new collection of giftable fine jewelry which includes pendants and earrings that will be treasured as long as the day's memories will be. The diverse collection consists of fine jewelry pieces in an array of price points, allowing for an easy shopping experience for every member of the bridal party at any budget.
For the Maid of Honor
The yin to her yang. Her ride or die. Her bestie. She's been there through highs and lows, celebrated the bride at her best and held her hand during worst of times. On her wedding day, she'll straighten the veil, hold the bouquet, and stand next to the bride as she ventures into this new chapter of her life. Mark this momentous occasion with something that she can wear forever, such as a lab grown diamond pendant. As versatile as she is, this pendant will go from morning yoga to girls' night out, keeping her glowing every step of the way.
For the Mother of the Bride
She's dreamt about this day as long as the bride has. Mark this milestone with a piece of jewelry she will treasure forever. A LovBe lab grown diamond three stone pendant is the perfect option to celebrate the past, present and future memories you share. Available in an array of carat weights and metal types, this pendant will be a family heirloom in the making.
For the Bride
Last but certainly not least, there is the bride herself. Tradition calls for the groom to send the bride a gift on the morning of the wedding, as she prepares to become his wife. While a simple, heartfelt, handwritten note will do, LovBe firmly believe a little added sparkle which she can wear for the rest of her life, while always being reminded of her wedding day, is the way forward. Classic diamond studs will be as appropriate with her wedding dress as they will be everyday thereafter. The only decision left to make: pear shape or emerald cut?
To shop LovBe's entire collection of giftable lab grown diamond jewelry, at an array of price points, visit LovBe.
About LovBe:
Founded in the dawn of a new decade, LovBe exists solely to provide its customers with the highest quality, most brilliant lab grown diamond for the best value available. An e-commerce DTC brand, our customers' ultimate happiness is at the forefront of LovBe's journey. From customized designs, to unparalleled customer service, your LovBe experience will be as refined as your chosen diamond. LovBe offers free shipping (US and Canada), as well as 60-day returns on purchases. Let LovBe…your guide to the perfect engagement ring at http://www.lovbe.com.