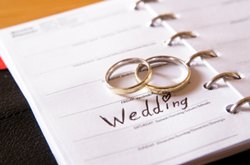 Zola is one of the newest Wedding Planning Guides to hit the market, and it's quickly taken the industry by storm.
OVERLAND PARK, Kan. (PRWEB) August 05, 2019
TopConsumerReviews.com recently awarded their highest five-star rating to Zola, a groundbreaking service among companies offering Wedding Planning Guides and other helpful tools.
What goes into planning a wedding? From selecting a date and venue, to carefully choosing guest lists and seating arrangements, the decisions needed to make it a picture-perfect day can be overwhelming. Fortunately, there are many Wedding Planning Guides available to help take the stress out of the planning.
While some Wedding Guides specialize in vendor databases and suggestions for themes and color schemes, the most robust services give couples high-tech tools for every to-do on the list. Some Wedding Planning Guides even streamline virtually everything by taking it online, from invitations to thank-you's and unlimited photo storage where even the guests can upload their favorite candid pics from the big event. Best of all, many of the most reputable Wedding Planning Guides are complimentary to use.
"Zola is one of the newest Wedding Planning Guides to hit the market, and it's quickly taken the industry by storm," according to Brian Dolezal, of TopConsumerReviews.com, LLC. "The wedding planning tools that this service offers - for free! - are so easy to use, and they cover every aspect of the experience, from a streamlined gift registry to a free wedding website and much more. Whether you already have an idea of your theme, colors, venue and other details or you're looking for some inspiration, you'll get it all on Zola. Couples using Zola can't say enough about how well this wedding planning guide has helped them to plan their guest list, send updates to their invitees, and connect with reputable vendors in their area. For all of these reasons, Zola is the clear winner among Wedding Planning Guides, and we're pleased to give the service our highest ranking in 2019."
To find out more about Zola and other Wedding Planning Guides, including reviews and comparison rankings, please visit the Wedding Planning Guides category of TopConsumerReviews.com at https://www.topconsumerreviews.com/wedding-planning-guides/.
About Zola
Zola is the wedding company that will do anything for love. They're reinventing the wedding planning and registry experience to make the happiest moment in couples' lives even happier. From engagement to wedding and decorating your first home, Zola is there, combining compassionate customer service with modern tools and technology. All in the service of love.
About TopConsumerReviews.com
TopConsumerReviews.com, LLC is a leading provider of reviews and rankings for thousands of consumer products and services. From Wedding Planning Guides to Wedding Invitations and Wedding Dresses, TopConsumerReviews.com delivers in-depth product evaluations in order to make purchasing decisions easier.