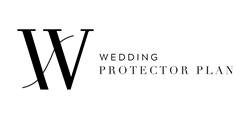 TAMPA, Fla. (PRWEB) August 02, 2022
Wedding Protector Plan® announced today the launch of its newly designed brand and website and protectmywedding.com. The Wedding Protector Plan provides wedding and private event insurance coverage for the wedding ceremony, reception, rehearsal, rehearsal dinner and post-wedding brunch at a competitive price with no deductible. The completely revamped website features a streamlined and simplified design, improved functionality and enriched content areas to assist in finding the right wedding insurance coverage for your big day.
"We are excited about our new brand and website launch as it truly represents the Wedding Protector Plan's vision and mission of providing high-quality wedding insurance to all couples looking to help protect their big day," said Meagan Phillips, program leader of the Wedding Protector Plan. "Our new site will allow visitors to have a highly informative experience as we continue to grow, increase our market presence within the wedding industry and cater to the luxury wedding market."
Wedding Protector Plan's new website provides a streamlined approach for brides, grooms and their families to help protect their financial investments to ensure that the wedding day is everything it should be. If your wedding is canceled due to a necessary and unavoidable covered reason, any non-recoverable contracted expense for your wedding may be covered under the cancellation/postponement coverage up to the covered limit on the policy. The Wedding Protector Plan has a strong 15-year history of providing wedding and private event insurance coverage to help protect couples from any unforeseen wedding mishaps.
Wedding Protector Plan's new website will be updated regularly with news, blogs, business activity, new product offerings and events. Visitors are encouraged to explore the website, receive a quote and buy online from the Company at protectmywedding.com
About Wedding Protector Plan
Wedding Protector Plan® provides cancellation/postponement wedding insurance coverage for many problems such as severe weather causing wedding cancellation or postponement, transportation shutdowns, lost deposits and other headaches that can ruin the anticipated celebration. Consumers also have the option to add private event liability with no deductible as an endorsement to their special event insurance policy.
Wedding Protector Plan® is a division of Protector Plans Inc., a wholly owned subsidiary of Brown & Brown, Inc.
About Brown & Brown, Inc.
Brown & Brown, Inc. (NYSE: BRO) is a leading insurance brokerage firm, delivering risk management solutions to individuals and businesses since 1939. With more than 12,000 teammates in 350+ locations across the U.S. and select global markets, we are committed to providing innovative strategies to help protect what our customers value most. For more information or to find an office near you, please visit bbinsurance.com.