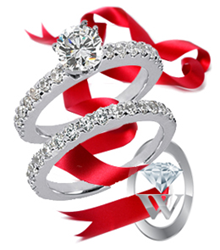 There is one company I judge others by - Apple - their service and attention to their customers is the best - and WeddingBandSWholesale is right up there with Apple.Kudos to Ronnie, Steven and the Weddingbandswholesale team!!Christopher R.
New York, New York (PRWEB) April 18, 2014
For the third time, in just as many years, Wedding Bands Wholesale has received the prestigious Wedding Wire Brides Choice Award. This esteemed annual awards program recognizes the top five percent of wedding professionals in the WeddingWire Network who demonstrate excellence in quality, service, responsiveness and professionalism.
Wedding Bands Wholesale's selection as a Bride's Choice Award 2014 (also known as Couple's Choice Awards) winner was selected based on the positive experiences expressed by past clients on WeddingWire, the world's largest wedding review site with over one million reviews. This award is based on reviews from real newlyweds and their experiences working with Wedding Bands Wholesale.
With all the designing and manufacturing done on premises, Wedding Bands Wholesale is able to greatly reduce their cost which in turn is passed onto the customer, sometimes up to 70%. With their extensive catalog and their online showroom, there is virtually not a single request that they can't accommodate. In addition to their online store, Wedding Bands Wholesale also greets walk in customers to design their dream piece of jewelry. From diamond eternity bands to necklaces and bracelets, weddingbandswholesale.com has the ability to craft any piece of jewelry at your request.
With their attention to detail, customer service before and after purchase, quality of materials used and being courteous and friendly to every shopper has helped them to earn this award repeatedly. It has also garnered them some stellar reviews from past customers.
Here are two of the most recent:
"When my much anticipated (25th) Anniversary ring arrived it was stunning! To say I was nervous about ordering such an important piece of jewelry online is an understatement. Ronnie, I sincerely appreciate your patience, honesty and attention to detail. Your patience with all my questions and your calm demeanor put any doubts I had to rest. My ring is so beautiful. Thank you so much, I love my ring. I am so happy I decided to do business with Wedding Bands Wholesale. Sincerely, Cindy Florida."
"These guys are great! They make ANY ring design that is set in front of them. Can't beat the prices, and the quality is not sacrificed one bit. They are very responsive to emails, phone calls, and scheduled meetings. I must note that the first ring made for my wife was a bit off, since it didn't match the engagement ring. I wanted it to be perfect. In a heartbeat, Ronnie said that he would make a new one, being fully aware that my wife and I will be wearing the rings that he makes for the rest of our lives. In the end, both our rings were amazing. I should mention Aaron too. The guy is really competent and very nice. I couldn't imagine a better ring-shopping experience the way these guys came through."
From Wedding Bands Wholesale Founder and Head Designer Ronnie Almani, "we are a growing business and take great pride in every single order we receive. We make all of our jewelry onsite and want our customers to be satisfied with every aspect of the shopping experience they have with us. From the first call to the final email from our customers stating how happy they are and can't wait to refer us to their friends. It's not just the jewelry it's a content and an at ease feeling we like all our customer to have."
Wedding Bands Wholesale is thrilled to be one of the top jewelry providers in the country, and will continue to strive for excellence in all aspects of their business in hoping to achieve their 4th award in the coming New Year.
About WeddingBandsWholesale.com:
WedingBandsWholesale.com is a manufacturer and online retailer of wedding bands, engagement rings, tennis bracelets and fine bridal jewelry located in the heart of the diamond district in New York City. Wedding Bands Wholesale has built a well-esteemed brand by providing clients with a better way to buy wedding bands. Wedding Bands Wholesale.com has established some of the highest quality principles in the industry and provides clients with in-depth educational materials and unique online tools that place consumers in control of the wedding band shopping process. The WeddingBandsWholesale.com Web site showcases independently diamonds and fine jewelry at prices significantly below traditional retail. Wedding Bands Wholesale is a subdivision of Almani, a high end jewelry designer and manufacturer. Check them out at http://www.WeddingBandsWholesale.com.