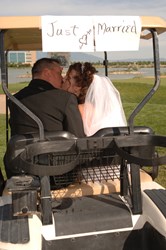 "Nestled in the foothills of the Oquirrh mountains, Overlook at the Ridge allows for breathtaking views of the Wasatch Front, downtown Salt Lake City and picture perfect sunsets."
Salt Lake City, Utah (PRWEB) September 30, 2013
The Overlook has already earned a 5 star rating from Salt Lake Wedding Reviews for excellent service and amazing views.
The Overlook is a full functioning wedding reception venue located on the top floor of the clubhouse at The Ridge. They offer a complete catering service including an experienced staff. The reception venue is now open and taking reservations. Golf course weddings have become dramatically more popular in the past few years. Over 20% of brides have had their wedding and/or reception at a golf course or country club this year.
The Ridge Golf Club is a public city owned course; this allows brides to have a country club experience without paying top dollar for a country club wedding. The club hosts both local brides and brides traveling to Utah for destination weddings.
"Brides love golf course weddings because they can offer a 5 star experience at an affordable price. Since they don't have to build a million dollar wedding venue they can charge less and still make a profit. We tell most of our brides to consider this kind of reception." –Ryan Swayt from Salt Lake Wedding Reviews
Stonebridge golf club is the sister course to The Ridge and also hosts brides for weddings and events. Both courses are located in West Valley City, Utah. These 5 star venues are sought after by many local brides. Book soon and save your date.
Click here for additional info about The Overlook at the Ridge in West Valley. Click here for more additional info about Stonebridge Golf Club Weddings. This press release was written by SaltLakeWeddingReviews.com.