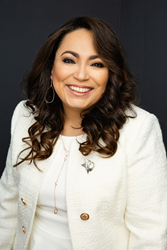 An educated and trained professional, will always look to elevate their clients experience.
RICHMOND, Va. (PRWEB) January 11, 2021
Weddings Beautiful Worldwide announces expanded vision and new CEO. Weddings Beautiful Worldwide is pleased to announce the appointment of Jacqueline Vazquez as the organization's next chief executive officer. Focused on growth, the organization will maintain its standard of personalized support and guidance to students and planners and build a community of leaders in the event industry. That community's knowledge will be directed to benefit all WBW students and planners as they inspire and serve all couples. WBW sees growth opportunities for the education of new planners and higher certifications for experienced planners. WBW has licensees in Japan, Ecuador, The Caribbean, Africa, Mexico, Paraguay, and The Philippines.
With over 20 years of experience in the event industry, Vazquez is the founder of Lifetime Events by Jacqueline and a sought-after wedding and event planner, educator, mentor, speaker, and author. She has the following certifications and designations: Master Wedding Planner, Certified Wedding Specialist, Certified Wedding Planner, and Certified Wedding and Event Planner. Vazquez has been a member of Weddings Beautiful Worldwide since 2007 and was the first to achieve both the CWS and CWP certifications.
WBW Director of Education, Nancy Tucker, introduced Vazquez to WBW Chairman, Bryan Gary Wright. "Nothing can grow without the right partner. With Jacqueline, I have that partner now," says Wright. "Jacqueline understands first-hand that it is Nancy's enthusiasm and one-on-one attention to students, that distinguishes a WBW education. Now, we want to take that approach and expand our support for the next generation of wedding planners who will embrace everything in weddings and serve all couples."
"My father, Gary Wright, entered the bridal business on an introduction from Doris Nixon. In 1968, she authored the original Weddings Beautiful course. Subsequently, my parents and both grandmothers expanded a regional bridal chain, and my father traveled the country speaking and advising under his banner of National Bridal Service as he became a mentor to the bridal industry. That legacy will continue with WBW."
"My love for learning and teaching entrepreneurship first drew me to these WBW students and planners who decided to build livelihoods from their own energy. I always saw a broader potential reach for WBW; however, I never felt the circumstances were quite right to invest in the brand at the required scale. That changes now with Jacqueline."
Weddings Beautiful Worldwide
Weddings Beautiful Worldwide (WBW) offers a certification program for wedding coordinators and planners worldwide. A leader in wedding education with over 50 years in the industry, the goal of WBW is to educate and support those seeking knowledge and a community of forward-thinking professionals. WBW offers a detailed, diverse, and inclusive certification program.
Media Contact: media@weddingsbeautiful.com