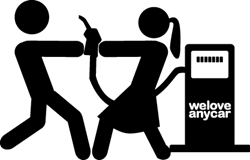 54% of car owners think their car does less MPG than the car makers claim.
(PRWEB UK) 26 November 2013
54% of motorists don't get as many miles per gallon as the car makers claim. But, in a twist on the old story, 10% say they get more!
In the WeLoveAnyCar.com Eco-Survey, sent to 20,000 car owners on 19th November, motorists were asked: "Do you think the MPG (miles per gallon) figures published by car makers are?

Reliable - 20 %
Unreliable - cars do more miles to the gallon - 10%
Unreliable - cars do less to the gallon - 54%
Don't know - 16%
90% of motorists think fuel costs will rise but, in some good news, leading forecasters; US Energy Information Administration's outlook forecasts almost static fuel prices next year.
The WeLoveAnyCar.com Eco-Survey found that 38% of motorists quote fuel economy as the number one factor in choosing another car. A further 53% said it was one of the most important considerations.
With over 239,000 driver reviews and votes the WeLoveAnyCar.com car review site is the biggest free resource available to UK car buyers. Each reviewer rates a car's economy and many comment on their actual MPG figures.
A WeLoveAnyCar.com spokesman said, "Only motorists who have owned a car, bought the fuel and driven the miles can tell you what a particular model's fuel economy is really like."
Other findings in the WeLoveAnycar.com Eco-Survey published on 25th November, also showed how a car is driven can effect fuel consumption by up to 10%.
END
WeLoveAnyCar.com has 81,788 full car reviews on 2,072 models from 73 manufacturers as at 25th November 2013. All reviews were gathered in the last 11 months. 239,369 car owners either agreed or disagreed with a review made by a car owner of the same vehicle. The car review database is free for all to use and it is the largest collection of car owner reviews in the UK.