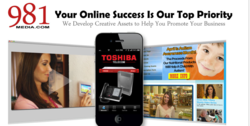 Many Atlanta businesses find it difficult to find multiple marketing services without hiring multiple companies and exceeding their budget. We wanted to find a way to address all of these needs in one place.
Burbank, CA (PRWEB) July 03, 2013
Online multimedia marketing company 981 Media is thrilled to announce their expansion to the city of Atlanta. With the constantly growing need for online marketing, 981 Media has expanded to provide Atlanta business owners with online marketing that is easy and effective yet won't break the bank.
What really distinguishes 981 Media, however, is the fact that they are a one stop shopping company, offering multiple services under one roof. Many businesses find themselves using several different companies to fulfill their web design, video marketing, SEO, and corporate photography needs. 981 Media stays at the top of their industry by offering all of these services under one roof, as well as several other unique services.
"Many Atlanta businesses find it difficult to find all of the marketing services they need without hiring multiple companies and often exceed their budget," says Austin Brooks, creative director at 981 Media. "We wanted to find a way to address all of these needs in one place while offering high-quality services at economical prices."
The company offers innovative web design, corporate video production, photography, and mobile app design as part of their online marketing services in Atlanta. Their web design services include responsive web design, search engine optimization, and customized Adwords campaigns, while their corporate photography services provide unique, professional photographs that capture the essence of the company, its employees, and their businesses itself.
981 Media has also found a way to make the notoriously expensive mobile app, which was once solely a staple of big companies, affordable and accessible for small and medium sized businesses in Atlanta.
Last but not least is 981 Media's video production service, which includes product demos, web series, corporate interviews, case studies, and much more.
As a corporate video company in Atlanta, 981 Media understands the importance of strong marketing techniques. Although they have hundreds of clients throughout the country, their headquarters are located in Los Angeles. This fortuitous locale helps provide Atlanta businesses with the kind of innovative, cutting-edge web design and star-studded video production that Hollywood and Silicon Valley are famous for. The company has some of the best programmers, designers, editors, directors, and producers in Los Angeles. Not surprisingly, the high-definition cinematic cameras used for top Hollywood movies are used in the company's video production process.  
981 Media is committed to the creation of innovative and effective marketing strategies for Atlanta companies. They are a multimedia marketing company that offers several unique services. They are ready to help business owners in the Atlanta area use a variety of methods to market themselves online.
About 981 Media
981 Media serves companies who want the best website design company in Atlanta and specializes in using multiple forms of media to promote businesses. They offer award-winning web design, video production, corporate photography, custom mobile apps for businesses, and much more. They chose their name for its ability to represent what they give to their clients. The numbers 9, 8, and 1 mean completion, fulfillment, abundance, power, creativity, and confidence. 9 is also the square root of 81, and together they symbolize synergy and maximized outcomes. To learn more, give them a call at 877-981-6334 or visit them here: http://www.981media.com/contact-us.