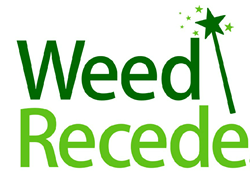 Weed Recede represents the next stage in technology that embeds purpose in the packaging.
Jacksonville, FL (PRWEB) July 12, 2015
A very important trend in the current economy is developing a business model that is not only profitable, but is purpose-driven and delivers a positive social and environmental impact. In order to foster creativity and cultivate investment towards these innovations, a competition called, Think Beyond Plastic™ was launched to find solutions to plastic pollution. Companies were asked to submit proposals that reduce the use plastic materials in manufacturing, recycling, packaging, and design. It's a critically important issue given EPA studies show that plastic pollution not only endangers wildlife and degrades ocean habitats(1), but costs coastal communities more than $500M each year to combat litter and curtail marine debris(2).
Bob Hawkinson, Co-Founder of TLC Total Lawn Care, Inc., being an inventor and landscaping expert for more than 30 years, came up with a product that would help eliminate approximately 2 billion plastic bags from the environment called, Weed Recede® (http://www.weedrecede.com). Weed Recede is an all-in-one, soil degradable, bio-plastic mulch bag that replaces the need to use obsolete petroleum-based packaging for lawn care and landscaping materials that are often non-recycled and end up as an environmental pollutant. Weed Recede®'s design also effectively suppresses weeds, reduces the use of herbicides and holds in moisture.
"I've always disliked the fact that so much of the materials used in lawn care and landscaping are packaged in plastic," admits Hawkinson, "but historically, the technology has been slow to address the issue of plastic pollution. As of a few years ago, with the introduction of bio-plastics and plant-based materials used in consumer products, it made sense to me to apply this information to my business. Weed Recede represents the next stage in technology that embeds purpose in the packaging. It simplifies the delivery system for installing mulch in a faster, easier, more eco-friendly way that helps to eliminate billions of plastic bags from ending up in the ocean or landfills."
With environmental conditions and customer demands driving the need for innovation across the landscaping industry, it is a very opportune moment to introduce an effective solution like Weed Recede that manufacturers, land management companies, and home lawn and garden consumers will want to adopt.Technology that can combine packaging with product is a giant step forward for this industry. Weed Recede meets the challenges of today with an idea far ahead of its time.
Currently, licensing for Weed Recede is available to manufacturers.
To receive more information about Weed Recede® or to schedule an interesting and informative interview with Mr. Hawkinson, please contact Kevin Oaks at koaks(at)christiecomm(dot)com or by phone at (805) 963-1751.
1. http://www.epa.gov/region9/marine-debris/pdf/MarineDebris-NPacFinalAprvd.pdf
2. http://www.epa.gov/region9/marine-debris/pdf/WestCoastCommsCost-MngMarineDebris.pdf
About Weed Recede®
Weed Recede® is an all-in-one weed barrier mulch bag. One of the applications is that is a soil-degradable, bio-plastic bag invented by Bob Hawkinson, Co-Founder of TLC-Total Lawn Care, Inc. Mr. Hawkinson has been in the landscape industry since 1983. Since then he has personally managed a very successful, full service, family owned, commercial landscape company for over 3 decades. During this period, Mr. Hawkinson had gathered an extensive amount of experience with landscape installations and was bothered by the volume of left over plastic bags. To him it represented wasted resources and inefficient use of time. He began to scope out a solution that not only saves money and time, but helps reduce the use of water and eliminates plastic bags from the need for disposal.
About Think Beyond Plastic™
Think Beyond Plastic is a social-impact venture addressing plastic pollution by harnessing the forces of entrepreneurship, innovation, and the power of global markets to do good. It sources innovation; accelerates businesses; cultivates the investment ecosystem and leads thought-leadership on public policies and economic instruments to support innovation.