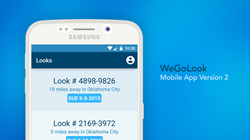 The WeGoLook App update features a new design, dashboard, camera/photo interface, and step-by-step guides for data collection.
Nationwide, US (PRWEB) September 30, 2015
WeGoLook, a nationwide collaborative economy platform specializing in dynamic field services and custom tasking released an update to their on-site inspection app for Android this week. The WeGoLook App update features a new design, dashboard, camera/photo interface, and step-by-step guides for data collection.
The first version of the WeGoLook App was released earlier this year to provide real time, secure solutions meeting the project requirements for many financial institutions, insurance companies, and other enterprise clients via WeGoLook's proprietary software. Customized report templates are within the app walk the on-site agent through required data collection and photos which is securely deleted from the device upon inspection completion.
After the inspection is completed, the report data is reviewed by WeGoLook's Quality Assurance department and delivered to the client in preferred formats (API, HTML, PDF, .zip compressed images, etc.). WeGoLook has received the SSAE 16-SOC Type I Certification in 2013 and the SSAE 16-SOC Type II Certification in 2014 ensuring the organization's data security.
"Recent hires to our mobile team have allowed us to dive much deeper into mobile development. This new version integrates much tighter with Android device onboard sensors and takes advantage of several native features. It's a big step forward on our mobile roadmap," noted Greg Starling, WeGoLook Chief Technology Officer.
Recently, WeGoLook received The Journal Record's Innovator of the Year Award for their technology development and business solutions. The WeGoLook App is available for Android and iOS mobile phones. The release of app update will continue to source WeGoLook's 20,000+ Lookers (agents) nationwide to complete customized data collection.
WeGoLook is a dynamic field services and inspection company leveraging a sharing economy of 20,000+ Agents in the United States. Tasks and inspections are assigned to Agents through a crowdsourced platform. Agents collect field data, photos, and video via the WeGoLook Mobile App and complete custom tasking such as item pickup and delivery and more. WeGoLook specializes in verifying autos, properties, boats, heavy equipment, antiques, electronics, furniture, RV's and other assets. WeGoLook has expanded to international markets in the United Kingdom, Canada, and Australia with other countries to follow.