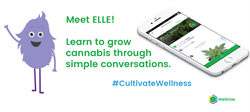 WeGrow has created this beautifully curated space for people to learn how to grow at home.
Boulder, CO (PRWEB) April 04, 2017
WeGrow, an interactive educational app using proprietary chatbot-based technology has launched in the iOS store. The WeGrow mobile platform personalizes cannabis home grow education and provides an entire growing community and knowledge base right in a user's pocket.
"To date, WeGrow has had 8,200 downloads and has completed over 20,000 conversations: 97% of users want to grow cannabis in their homes, 65% of these users indicated they have faced frustration on how to get started."
Mason Levy, Founder and CEO of WeGrow
WeGrow simplifies the learning process, eliminating the need for exhaustive online searches and sifting through hundreds of conflicting opinions. The app and its companion educational modules guide the novice grower through the germination, vegetative, flowering, and harvesting stages of growing cannabis. WeGrow personalizes the growing experience through simple conversations with ELLE, it's Growbot™ and conversational agent.
The heart of WeGrow is education, community, and empowerment. The WeGrow mobile platform allows growers to tap into the collective knowledge of the community, and empowers individuals to cultivate well-being. Individuals interested in the new version of the app can download it at wegrowapp.com.
"As a novice grower, I ran into multiple problems throughout my initial grow. WeGrow helped me figure out the equipment and resources I needed to successfully harvest."
Steven Ernest, Partner, MAZAKALI
Why WeGrow?

Home Grow Instruction: User's receive coordinated educational modules to optimize their marijuana plant's growth as they progress from seed to harvest.
Learn through Conversations: It's simple. Chat with ELLE, WeGrow's personal Growbot™, to go over critical information and get tips for a successful grow.
Recommended Grow Systems and Products: ELLE makes personalized recommendations on the best home grow systems, equipment and nutrients to make a grower's gardening life enjoyable and efficient.
Homegrown cannabis is legal in 29 states with a medicinal card, and legal in an additional 8 states recreationally. According to a January, 2016 Harris poll, 18% of adults (approximately 45 million people) in the U.S. are interested in growing cannabis at home.
"I understand the process of learning to grow. Our research sessions could involve conflicting info from 15 books by master growers. Online, if you were lucky enough to find good forums with advice, the very next entry was 'that guy's an idiot, don't listen to him," stated Jill Lamoureux, CEO of Pure O&M, a nationally recognized cannabis business expert in Colorado with extensive experience in cultivation, manufacturing and distribution.
About
WeGrow was founded in December, 2015 by CEO Mason Levy. He was inspired by the medicinal benefits of cannabis to educate and empower people who want to grow the plant at home. WeGrow is a portfolio company of CanopyBoulder. WeGrow's vision is much larger than teaching people how to grow a single plant, it wants to do so by helping people connect and learn any number of topics through simple conversations.