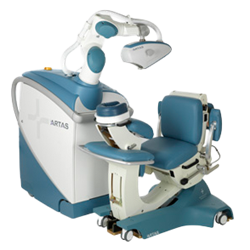 Brentwood, TN (PRWEB) November 28, 2014
ARTAS robotic hair transplant surgical procedures are now available in Tennessee for the first time. PAI Medical Group hair transplant surgeons Chris Pawlinga, M.D. and Jeffery Waesche, M.D. will be performing a robotic hair transplant procedure in the Brentwood office on Monday, December 1st, 2014, at 9:00 A.M.
The first in Tennessee and one of only three medical centers in the Southeast, PAI Medical Group now offers ARTAS robotic hair transplantation. Patients benefit from this minimally invasive, no-stitch hair transplant technology. The robotic precision of the ARTAS robotic system allows surgeons the ability to more accurately harvest the small, permanent, delicate hairs from the sides and back of a patient's head and then transplant into the patient's thinning areas. This technology gives patients a much better result than when done by hand.
The ARTAS system is guided by the doctor and uses sophisticated digital mapping to identify and pinpoint the hairs to be harvested. It then uses a special arm and dual-stage hair harvesting device to gather the small hair groupings called follicular units. ARTAS does this much faster and with more accuracy than can be done by a human. The robotic system digitally identifies the distance between each hair - or hair grouping - and then calculates the distance between these hairs and the best hairs in the digital map to harvest for the hair transplant surgeon.
The ARTAS system continuously re-calculates the hair angles and groups of hairs before harvesting them. It calculates up to 50 times a second the hair angles and position as it harvests the hair for the transplant. This system gives the doctor much more control and precision when harvesting the hairs. As a result, the harvested hairs are healthier and of higher quality.
For 20 years, PAI Medical Group / WeGrowHair.com has offered advanced hair transplants and treatments to the public. PAI Medical is the 34th center in the world to acquire the ARTAS robotic hair transplant system and one of the first in the Southeastern United States. They is the only medical practice in Tennessee to offer this technology to date.