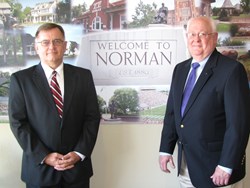 Norman, Oklahoma (PRWEB) August 29, 2013
Brokers Anthony (Tony) Graham and Andrew (Andy) Newman, owners of Centennial Realtors in Norman, have joined Weichert Real Estate Affiliates, Inc. (WREA) as the first franchise in Oklahoma for the expanding national brand.
Graham and Newman are now the independent owners and operators of newly named WEICHERT, REALTORS® - Centennial, located at 360 24th Avenue N.W., Suite 126. The partners made the transition "to make us more competitive and offer more to our agents," said Graham, who is managing broker of the agency.
Weichert Affiliates President Martin J. Rueter welcomed them saying, "The affiliation with Tony and Andy and their outstanding team brings us into Oklahoma with an impressive, established company to carry our name and reputation to the Norman and Oklahoma City market."
"Our agents are as excited as we are," Graham said, "having now heard from WREA President Martin J. Rueter and Vice President, Affiliate Services Shawn Stovall in person." The two travelled from New Jersey headquarters to make a presentation to the staff and sales team. They talked about ongoing training and support for brokers and agents, under-one-roof services for consumers and Weichert's advanced technology, "something we could not afford to invest in on our own," Graham said.
The Weichert Internet site,http://www.weichert.com, ranks as a top site among all real estate companies for the length of time that visitors spend at the site, according to HitwiseÒ, which monitors the activity of major Web sites. In addition, The Weichert® Lead Network, a perennial award winner, sends leads directly to Weichert agents from consumers who call into the Weichert call center as a result of viewing listings on line. The network enables agents to be reached within minutes of the call center receiving an inquiry about a property from any place in the country. What WLN does in 3-10 minutes, the rest of real estate does in an average 54 hours.
Centennial Realtors was established by Graham and Newman in 2007. Graham brings 20+ years to the company, Newman more than 15 years. The longtime Oklahomans and their team serve Norman, Oklahoma City, Moore, Washington, Goldsby and surrounding counties as members of the Norman Board of REALTORS®. WEICHERT REALTORS® - Centennial can be reached at 405-360-0303, by e-mail Tony(at)CentennialRealtors(dot)com; Andy(at)CentennialRealtors(dot)com.
About Weichert Real Estates Affiliates
Weichert Real Estate Affiliates, a division of Weichert, Realtors in Morris Plains, New Jersey, is now in its 11th year as home to a growing roster of independently owned and operated offices across country. Recent news about the brand's rise since launching its first affiliate in 2002 is the no. 2 ranking by Entrepreneur magazine among all other competitors in the real estate category in the "Entrepreneur 2013 Franchise 500®" list, an annual ranking of America's top franchise opportunities. More information about the franchise organization and its current 240 member offices can be found on http://www.weichert.com. President Martin J. Rueter and the management team can be reached in N.J. toll free at 1-877-533-9007.
About Weichert, Realtors
Since 1969, Weichert, Realtors has grown from a single office into one of the nation's leading providers of home ownership services by putting its customers first. A family of full-service real estate and financial services companies, Weichert helps customers buy and sell both residential and commercial real estate, and streamlines the delivery of mortgages and home and title insurance. Weichert leverages its customer website, http://www.weichert.com, one of the most visited real estate websites in the nation, to help families and individuals realize the dream of home ownership through quick and easy access to listing information and the services of its real estate professionals nationwide. For more information, Weichert's customer service center can be reached at 1-800-USA-SOLD. Weichert franchised offices are independently owned and operated.