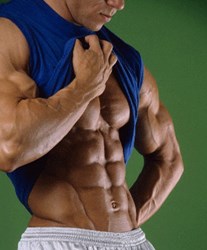 With tons of wise words about gaining muscle and getting fit, the Weight Gain Network is a dependable source of getting muscular the right way and the fast way.
Pompano Beach, FL (PRWEB) October 16, 2013
Visitors to the Weight Gain Network website enjoy the straightforward advice that provides just the right amount of information to know enough of the science behind the concept to properly implement it, yet not too much technical details to get confused or bored with it. Achieving the exceptional results from bulking and cutting gets lots of guys psyched to try the cycle and control the definition and growth of their muscles. The phrase does leave for a mixed interpretation, and lots of possibilities to describe the process for someone to get that sought-after look, which is given some clarity through video and content.
Weight Gain Network expert Troy Adashun provides loads of useable tips. He starts off by introducing the theory of bulking and cutting and defines what this type of food control really is and what body type is best for this undertaking. Explaining the idea very matter-of-factly, Troy provides great indicators to determine how the percentage of body fat plays into the method of how to bulk and cut and goes on to outline the difficulties that some body types will have in achieving the intended result with this method.
As Adashun explains, the bulking phase involves increasing calories, while the cutting phase involves reducing calories. While this explanation covers the basic concept, he provides so much more to know about what types of foods are best to eat and best to avoid, as well as timing the intake of food. Visitors get the straightforward facts to really do it right regarding the introduction and restriction of calories, and gain some related knowledge about carbohydrates, proteins and fats that effect this nutrition change. As a fitness model, Adashun is highly knowledgeable about how to control his physical appearance and is full of important tips that everyone should know when learning how to bulk and cut.
With tons of wise words about gaining muscle and getting fit, the WeightGainNetwork.com YouTube channel is also a dependable source of getting muscular the right way and the fast way. Whether it's learning about the right foods to eat to optimize the body's muscle building power or learning how to best use supplements to get the most from a workout, the experts from the Weight Gain Network will have the right answer in the most easy-to-follow format with lots of articles and accompanying videos. They have top-rate details about bulking and cutting and are full of useful facts to know how to gain weight to gain muscle, and lose weight while keeping muscle growth.
Weight Gain Network is a Pompano Beach, Florida based company that provides muscle-building advice to skinny guys who want to bulk up. Since 2010, Weight Gain Network has committed to creating the best videos and articles to show men how to gain weight fast. For more information on Weight Gain Network, please visit http://www.WeightGainNetwork.com.