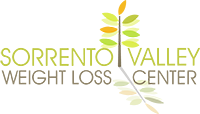 The average weight loss at the Center is 20 pounds in the first month alone!
San Diego, California (PRWEB) June 22, 2015
The top San Diego weight loss clinic, Sorrento Valley Weight Loss Center, is now averaging 20 pounds of weight loss for patients in the first month. The Center has reviewed its last year of success, and found patients routinely achieve the twenty pound mark and often more. The weight loss programs are customized to patients, and each new program includes $100 off currently. Call (858) 465-7917 for more information and scheduling.
The San Diego weight loss doctors are committed to putting together a personalized program patients that combines healthy food choices, portion control, behavior adjustment and lifestyle changes along with proven, FDA-approved medications that will help curb appetite cravings, provide energy boosts and help you burn fat. Sorrento Valley Weight Loss Center's doctor-supervised program is safe and effective with almost no side effects.
One of the ways that Sorrento Valley Weight Loss Center succeeds routinely with patients is by achieving a metabolic rate adjustment through a combination healthy diet and lifestyle modifications. In addition, the Center offers the "Skinny Shot", a specially formulated injection of Lipotropin B-12 and amino acids. The Skinny Shot is designed to help patients metabolize fat more effectively to lose weight more quickly and keep it off for good. It also supports detoxification of the liver and improves overall health for more energy, improved mood and better sleep.
Sorrento Valley Weight Loss Center often is able to see patients within 24 hours, and treatment occurs with several Board Certified physicians and Nurse Practitioners. New patients receive $100 off any San Diego medical weight loss program. Call (858) 465-7917 for scheduling.