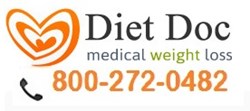 This hands-on, personalized service allows the doctors to identify and resolve any weight loss plateaus or other stumbling blocks that may be hindering fast weight loss.
Charleston, WV (PRWEB) September 21, 2013
Aside from the self-esteem issues that carrying extra pounds can create, science has revealed that those that are overweight carry a higher risk for the development of a myriad of diseases, including heart disease, stroke, diabetes and even cancer. Losing this excess weight will result in patients feeling better physically and emotionally and enjoying more active, productive and longer lives. Diet Doc's diet plans not only help people over initial weight loss hurdles, but now gently guide patients toward a long-term lifestyle change that promotes permanent weight loss and better health by making simple changes, and perpetuate this change with unlimited medical consultations.
One of the first diet companies to join the new revolution in dieting, Diet Doc brings this new healthy lifestyle to each patient's door. The days of traveling to and from weight loss clinics are over. By utilizing the most modern technology, the company has the ability to help those in even the most remote regions of the country to get healthy by losing excess weight from the comfort of their own living room.
Diet Doc is not the typical diet program. When patients commit to a healthier long term lifestyle, they are guided by a specially trained team of fast weight loss experts, from the inception of the individual diet plans, and for up to a year after weight has been lost, ensuring effective long term weight maintenance. From the beginning of each patient's transition to well after the last unhealthy pound has disappeared, the board certified doctors, nurses, certified nutritionists and weight loss coaches are there to supervise the journey, assuring the most successful and safest experience as well as providing unlimited support, guidance and encouragement.
Because Diet Doc's goal is to provide only the safest and most effective weight loss experience for each patient, the company's diet products are not available to just everyone that shows interest. A medical evaluation and Diet Doc in-house doctor consultation is required, both of which can be accomplished via phone or internet. Qualified patients will work with certified nutritionists to design diet meal plans that are unique to each patient's personal nutritional and lifestyle needs and compatible with almost any medical condition. These diet plans are rich in essential nutrients and incorporate a wide range of delicious food choices that sustain the dieter's interest while the fast weight loss offers motivation. When complemented with Diet Doc's prescription medication, pounds and inches are melted from areas of the body that are typically the most stubborn and difficult to lose.
To assure that each patient is benefiting from the safest and most successful weight loss journey, weekly communication is scheduled to assess progress, mood, attitude and comfort level. This hands-on, personalized service allows the doctors to identify and resolve any weight loss plateaus or other stumbling blocks that may be hindering fast weight loss. Diet Doc's prescription diet products cannot be found on store shelves and are available to qualified patients only. Dedicated to providing only the safest diet products, all prescription products are manufactured in FDA approved United States based pharmacies.
Making simple lifestyle changes today by losing excess weight can have a significant positive impact on the quality of life of the many tomorrows that everyone looks forward to. The professionals at Diet Doc are anxious to help those of all shapes and sizes live longer with better health and improved self-confidence by making this lifestyle change today with the nation's safest and most effective diet plans.
Diet Doc Contact Information:
San Diego, CA
(800) 272-0482
Weight-loss(at)Dietdoc(dot)info
http://doctorsupervisedweightloss.com/testimonials.php
Twitter: DietDoc10
Facebook: DietDocNaturalHealth