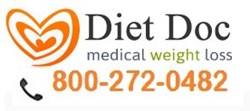 A consultation, done from the patient's own home over the telephone will be scheduled, connecting clients nationwide with Diet Doc's own board certified physicians, during which the patient's entire system will be evaluated
Atlanta, GA (PRWEB) November 29, 2013
Knee osteoarthritis is a degenerative joint disease caused by wear and tear of the joints and breakdown of the articular cartilage. Being overweight or obese is a major contributing factor for this painful condition because the extra weight places additional pressure on the load bearing joints, such as the knee. Over time, the cartilage is worn and the joint can become inflamed. Any movement can cause significant pain in the affected joint.
According to a recent study, performed at Wake Forest University in North Carolina and reported by Medical News Today, those who are obese can expect to encounter knee osteoarthritis at some point in their lifetime. The same study suggests that losing just 10% of one's body weight, combined with moderate exercise, can have significant positive effects on managing and improving the painful symptoms of this condition.
While losing excess weight will not reverse the damage already done to a joint, even moderate weight loss can have a dramatic effect on its relief, putting less pressure on already damaged joints and relieving some of the symptoms associated with osteoarthritis. Diet Doc's prescription hormone treatments, when coupled with individually tailored diet plans, each designed by certified nutritionists, offer an effective weight loss solution to help avoid the pain, expense and potential risks associated with the development of painful and, often debilitating, knee osteoarthritis.
Prospective Diet Doc patients can simply call the company or log onto the computer to complete a comprehensive, yet quite simple, medical evaluation. A consultation, done from the patient's own home over the telephone will be scheduled, connecting clients nationwide with Diet Doc's own board certified physicians, during which the patient's entire system will be evaluated. This level of personalized services enables the doctors to identify any poorly performing organs and to resolve any barriers that may be hindering fast weight loss.
Qualified patients will then work closely with certified nutritionists to create diet plans that are specific to their personal needs, while guiding them toward learning to make healthy, low calorie food choices. Patients will learn about proper nutrition and calorie content of foods that will help them lose weight fast. Because diet plans are designed specifically for each patient, patients can continue to consume some foods that they enjoy while beginning to incorporate healthy fruits, vegetables, whole grains and lean meats into their diet.
The customized diet plans will be complemented with Diet Doc's 100% pure prescription hormone treatments, which are typically administered once daily under medical direction. This powerful combination signals the brain to target stores of unused and trapped fat to be released into the bloodstream and burned as the body's primary source of energy. Patients that follow the diet plans, along with the prescription hormone treatments, are boasting a noticeable loss of pounds and inches within days of beginning the prescription hormone diet plans while looking and feeling better than ever before.
The specially trained fast weight loss specialists at Diet Doc remain committed to providing everyone with the opportunity to lose weight and to avoid conditions such as painful knee osteoarthritis by supervising and monitoring each patient's journey, assuring the safest and most effective diet experience. The professionals are always a phone call or an email away and are available 6 days per week to answer questions and eager to lend unlimited support, guidance and encouragement throughout each patient's transition to a healthier and leaner body.
Sign up for Diet Doc's Mailing list here:
Diet Doc Contact Information:
San Diego, CA
(800) 272-0482
Weight-loss(at)Dietdoc(dot)info
http://doctorsupervisedweightloss.com/testimonials.php
Twitter: DietDoc10
Facebook: DietDocNaturalHealth