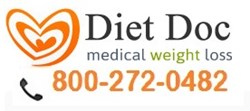 Because Diet Doc utilizes the most current technology, even those patients that have limited mobility can benefit from the powerful weight loss effects of the prescription hormone diet plans
Burlington, VT (PRWEB) October 12, 2013
One of the most common risks associated with obesity is the propensity for the development of pressure ulcers and skin infections. Because excess fatty tissue prevents the body from naturally releasing heat, people that carry excess weight are prone to more profuse sweating. This perspiration builds up in the folds of the skin, most commonly under the hanging flap of tissue in the abdominal area. Because washing beneath these folds can sometimes be difficult due to the weight of the fatty folds, the constant friction and lack of cleanliness can lead to the patient suffering breakdown rashes in the skin, inflammation, lesions and skin infections. Because those that are morbidly obese have limited mobility, limited range of movement and, quite often, breathing problems, the ability to lie flat may be inhibited. Lying in one position can lead to pressure ulcers. Left untreated, pressure ulcers will result in severe and, sometimes life threatening, infection. To prevent the growth of fungus and bacteria in the folds of excess skin and to avoid the development of pressure ulcers and skin infections, careful intervention is required. Oftentimes, the excess skin must be removed surgically to prevent serious skin infections and pressure ulcers. Because the excess fat restricts adequate flood supply to the site, wound healing can be very difficult and very slow.
Diet Doc has developed the nation's leading medically supervised prescription hormone diet plans to help those that are classified as morbidly obese to lose the excess fat rapidly and safely, while helping those that are simply overweight to prevent becoming morbidly obese. Benefiting from decades of scientific research and the combined knowledge and expertise of specially trained and board certified doctors, nurses and certified nutritionists, Diet Doc has developed the nation's leading medically supervised, prescription hormone diet plans offering safe and fast weight loss to everyone who needs to lose weight.
In the 1950s, it was discovered that this special hormone was effective in promoting fast weight loss when patients followed a 500 calorie per day intake. Although the diet plan did deliver fast weight loss results, the dangerously low caloric intake posed health compromise to patients. The professionals at Diet Doc have procured the most essential elements from the original hormone diet plans, modified the plan by incorporating only 100% pure hormone that is manufactured in FDA approved pharmacies in the U.S., enhanced the hormone with energy boosting Vitamin B12, and incorporated diet plans that are rich in essential nutrients, allowing the dieter to enjoy up to 1250 delicious and healthy calories per day. These all inclusive prescription diet plans have enabled thousands of Americans to enjoy a richer, more rewarding life by losing dangerous excess fat.
Subsequent to a satisfactory medical evaluation and doctor consultation, patients will work closely with certified nutritionists to create diet plans that are exclusive to their personal nutritional and medical needs, activity level and anticipated dieting goals, while fitting neatly into their lifestyle. Qualified patients will be administered regulated doses of medically supervised prescription hormone. This powerful combination signals the brain to target old, unused and trapped fat to be released into the bloodstream. The body will then use this stored fat for its primary source of energy.
The beauty of the prescription hormone diet plan is that weight loss does not have to be temporary. Oftentimes, patients lose weight only to revert back to their original eating habits and, quite obviously, regain the weight. The professionals at Diet Doc assure permanent results by lending years of fast weight loss knowledge to each patient, offering education on which foods typically promote weight gain for each patient's particular body type and which foods to avoid.
Because Diet Doc utilizes the most current technology, even those patients that have limited mobility can benefit from the powerful weight loss effects of the prescription hormone diet plans. By simply dialing the phone or logging onto the computer, everyone can lose weight without the inconvenience and cost of traveling to and from local clinics.
The professionals at Diet Doc urge everyone that has been unsuccessful in weight loss in the past to call today to schedule a free and confidential consultation and to begin to enjoy a more active life by losing embarrassing, unwanted and unhealthy excess fat.
Diet Doc Contact Information:
San Diego, CA
(800) 272-0482
Weight-loss(at)Dietdoc(dot)info
http://doctorsupervisedweightloss.com/testimonials.php
Twitter: DietDoc10
Facebook: DietDocNaturalHealth