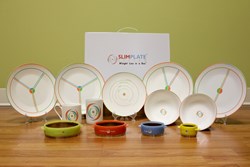 ...Users are happy to discover they can eat the same foods they love, more frequently and with controlled portion sizes...
Rock Hill, SC (PRWEB) September 30, 2013
Distressed by the revelations that nearly one-third of all Americans are obese, two weight-loss physicians were inspired to create a totally new concept in weight-loss. The SlimPlate System portion control kit is an easy to follow plan that does not require the user to make sacrifices and diet changes that inevitably cause them to quit trying to lose weight. It doesn't get any easier than this kit to drop the excess pounds.
Researchers have long known that the quickest and most sustainable method to weight control is to keep a fast-paced metabolism. While the use of diet supplements and medications power the metabolism they are not the healthy way to lose weight because they do not have long term sustainability. Therefore the lost weight will eventually return. Using the body's own mechanisms in combination with foods ensure a positive outcome with long term sustainability. This is the concept of the SlimPlate System. Natural foods as opposed to protein shakes and packaged foods will make the digestive system and metabolism operate at its full potential.
The new SlimPlate System removes the burden of counting calories and weighing foods to make sure of the correct portion sizes. This is dieting made simple. The SlimPlate System comes with a set of portion control plates, cups, bowls and a set of one-of-a-kind Portion Control Cutting Rings. Now it is a simple matter to arrange a plate with the correct amount of fruits, grains, vegetables and proteins in each meal. Users are happy to discover they can eat the same foods they love, more frequently with controlled portion sizes.
What can be easier than just keeping food items within the clearly delineated colored lines on the tableware? Even a sandwich or pancake can be re-sized using the included Portion Control Cutting Rings, which are simply placed over the item and pressed down to reveal the perfect portion size; a real departure from old methods of portion control. The plan is based on five portion-controlled meals a day, which will keep the metabolism working at a fast pace throughout the day eliminating the use of harmful stimulants like Caffeine, Guarana and Ephedra.
The SlimPlate System was developed by two weight-loss physicians in an effort to provide a solution to obesity. Sandeep Grewal, M.D. is Board-Certified in Internal Medicine and was the recipient of The Charlotte Business Journal's Healthcare Innovator Award for 2013, and also named to the Top Forty Under Forty List in 2013. Dr. Nwe is a Diplomate of the American Board of Obesity Medicine and is Board-Certified in Internal Medicine. She co-founded the Ace Medical Weight Loss Center with Dr. Grewal.
For complete information on weight-loss through portion-control, visit: The SlimPlate System
Media Contact:
SlimPlate System
Attn: Press
744 Arden Lane, #100
Rock Hill, SC 29732
803.325.1111