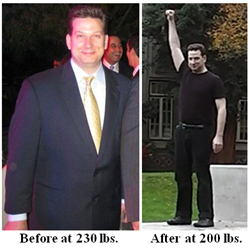 I finally found a way to keep weight off permanently without diet pills, starving myself or going to the gym. These weight loss tips really work.
Los Angeles, CA (PRWEB) January 07, 2014
Brian Daniel, former crash dieter, has revealed his secrets to how he lost 30 pounds permanently in his new ebook titled: "How I Lost 30 Pounds without Dieting or Going to the Gym".
"For over 20 years, I have struggled with my weight," says Daniel, "and I was finally sick and tired of being overweight, so I decided to get long-lasting results with a realistic diet plan." Essentially, Daniel devised a way to fit a realistic plan to lose weight into his life, but to go against the traditional quick-fix method of diet pills or diet foods.
"Simply put," says Daniel, "I lost 30 pounds and I've kept it off for over two years now, so I know the plan works. Previously, I had a yo-yo weight loss situation and I always gained more weight back when I tried shortcuts to losing weight."
Daniel's friends and family were so surprised by his results that they too decided to try Daniel's techniques and also had amazing results.
Millions of Americans suffer from being overweight, and what Daniel's ebook teaches is how to make small, incremental changes to one's life so that the weight loss is permanent. Just some of the great content included in the book: How to lose weight naturally without pills, why personal trainers or gym visits aren't needed, Why buying pre-packaged diet food doesn't work, How not to feel anxious while losing weight, Why you can eat what you want when you want and still get results, Why this system is a long-term solution, Why little life-changes make a big difference, and easy tricks to feel full & not hungry.
For more information about the ebook "How I Lost 30 Pounds," visit http://www.iLost30.com.