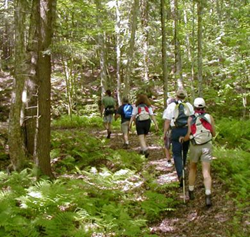 Green Mountains, Vermont (PRWEB) July 31, 2014
Redefining the meaning of spa deals the famed New Life Hiking Spa launches an anniversary celebration with one free night for guests. Celebrating the fifteen year success of their most popular program, the 11 Night Weight Loss Retreat, the destination spa generously marks the occasion. So how does the spa who is one of Greatist's Top 17 Fitness Vacations for 2014 celebrate? They give a free off the retreat for those booking a reservation during the month of August. Rounding out the season which officially ends September 26th the lucky guests will revel in hiking trails dressed in Vermont's fall foliage and dine on locally grown healthful meals.
Kathleen LeSage, co-owner of New Life Hiking Spa said of the program, "Our 11 Night Weight Loss Retreat is our most popular program because to really reboot your daily routine and develop healthy habits, one needs to get out of their day to day grind. Coming to Vermont, hiking, eating freshly prepared foods and relaxing in the fresh mountain air is a wonderful way to detox and get back on the track of wellness. It's not a crash diet. It varies how much people lose while they're here because our focus is learning new healthy habits to take home and continue on a healthy path."
America's longest operating hiking spa located in the lush Green Mountains of Vermont, New Life Hiking Spa is often referred to as one of the most affordable destination spas in North America. Regular prices range from $229 to $259 per night. 11 Night Weight Loss Retreats reserved during the month of August for retreats throughout the 2014 season will receive a free night, valued at $239. With the discount, the total cost of the 11 night Weight Loss Retreat for single occupancy is $2,390.00.
The all-inclusive package includes a deluxe room for 11 nights, three healthy, freshly prepared meals per day rich with whole food grown locally as well as fruits and vegetables as snacks. It also includes one guided hike each day, all fitness and yoga classes, three massages, evening lectures and cooking demos.
About New Life Hiking Spa:
New Life Hiking Spa was founded in 1978 and is located in the Green Mountains of Vermont. The celebrated weight-loss spa has been recognized as number seven on the Top 100 Spas of America list as well as one of Greatist's Top 17 Fitness Vacations for 2014. New Life Hiking Spa is also the winner of the Reader's Choice Award for Best Weight Loss Spa by SpaFinder Wellness 364 for five years running.