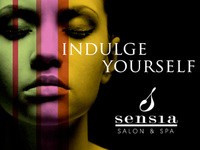 Enjoy your favorite holiday meals without showing it
Visalia, CA (PRWEB) December 19, 2013
Sensia Salon & Spa is now offering clients a way to keep the holiday pounds off. One of the Central Valley's largest full service salon and day spas is now providing clients the opportunity to lose inches off their waist line and firm up areas of their body gained throughout the holiday season. On average people tend to gain 5 to 10 pounds from October through January. There are many factors that contribute to this weight gain, not just eating extra-large portions. During the Holiday season, people tend to stray away from their normal routine and diet and eat an extra candy, pie, cake or cookie. One common statement we have noticed is eating triple Thanksgiving meals (eat at one relative's house, go to the next, and finish with dessert somewhere else). Cathy Reilly said, "Enjoy your favorite holiday meals without showing it." Since there is so much going on during this Holiday season, the typical daily workout sessions get harder to fit into people's schedule. Cathy Reilly went on to say, "The cold weather keeps people inside, snuggled under blankets, and in some of our client's cases, snuggled by a fireplace, sipping hot chocolate, being immobile."
Sensia offers several wraps that can meet your needs. The first wrap is A Thermal Body wrap. This wrap is unlike the traditional wrap. This A Thermal Body wrap is designed to heat the body's core, simulating a 1 hour workout. The procedure with this thermal wrap will actually have your body covered in a blanket, causing the client to sweat profusely. The only area not covered is the customer's head. The average treatment can last from 40 minutes to 1 hour and the cost $65. The main function of this wrap is to detoxify the body, and lose water weight. This procedure may result in possible inch loss of your waist line. This wrap is not designed for people who cannot take high heat temperatures, or are claustrophobic.
Sensia's most popular wrap is the Slimming and firming wrap. A thermal gel is placed on the desired area or full body. A firming cream is applied on top of the thermal gel, and then the body is wrapped in plastic wrap. After approximately 30 minutes the wrap becomes loose and more wrap is placed over the existing wrap to tighten. After one hour the process is completed. An individual may be left with velvety smooth skin that is firmer. In addition, a tightening effect may occur on the wrapped area. Prices range from $30 for the stomach, $50 for hips and thighs and $80 for full body. The final treatment is Sensia's Cellulite treatment. This treatment is designed to get rid of cellulite, encouraging a smoother appearance to the skins surface. This treatment includes a cellulite massage using a thermal gel that breaks up the toxins and increases circulation. Utilizing Ultrasound technology, a water soluble ampule designed to penetrate deep into the dermal layers of the skin breaks up the fatty deposits and helps the body to naturally eliminate the deposits within the epidermal layer. Some bruising and soreness can occur with treatments. Results are noticeable on the first appointment with all of the above mentioned body wraps.
For contact information you can visit Sensia Salon and Spa online at http://www.sensiaskincare.com. You can also call the Salon direct at 559-741-0983 and ask for Cathy Reilly Licensed Esthetician or text to 559-936-9237 for you next appointment. Gift certificates are available and we also offer packages of 3 and 6 at a discount.
Press release was made available by Green eSolutions a local internet marketing company.