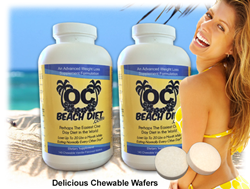 'Even if all other diets have failed you in the past, if you're serious about losing weight without pain or deprivation, then you're a perfect fit for The OC Beach Diet!' says Founder, Don Bassler.
Newport Beach, CA (PRWEB) August 13, 2014
The OC Beach Diet company based in Newport Beach, CA has announced an advanced weight loss supplement that's helping folks lose weight easily - up to 20 pounds in as little as 28 days for many folks.
The OC Beach Diet concept is powered by chewable diet wafers that provide dieters with potent fat-burning nutrients and all the healthy nutrition that one needs on a daily basis. It's a delicious, low-calorie, in home weight loss supplement that is gaining wide appeal online and offline.
Dieters start by munching on The OC Beach Diet wafers exclusively on Day 1, and then on Day 2, they are free to eat as they normally would. Then on Day 3, it's back to the wafers and so on. The company emphasizes the sheer simplicity of this "one day diet", but stresses that the effectiveness is based on real science.
"Anyone can stick to a diet for one day when they know they can eat whatever they normally eat the next day!" says founder, Don Bassler. "It's also the perfect diet for those with busy social calendars since the 'cheat days' can be swapped with diet days in case a diet day happens to land on the day of a big event," he adds.
The secret to this diet plan is in delivering essential ingredients to the body and not tampering with the dieter's metabolism like other popular deprivation diets do.
When folks eat less food than they normally consume for more than 3 days in a row, their body senses it as a shortage in the food supply. The body responds by trying to conserve energy and avoid starvation which, in turn, lowers their metabolism – the rate at which calories are burned. "It's a survival tactic that kept our Neanderthal ancestors alive when the food supply was a lot more uncertain," says Bassler.
The OC Beach Diet is designed to keep one's body from knowing it's on a diet since the diet allows people to eat all the foods they normally eat, every other day; it prevents one's metabolism from being lowered and helps them to lose weight fast & in a healthy manner.
Mr. Bassler says the mantra of his company is to help people achieve their ideal weight and live the rest of their lives in the body of their dreams. He points out that with The OC Beach Diet there's no calorie counting, no planned meals, no meetings, no drugs, gimmicks or forbidden foods.
The OC Beach Diet is especially proud to offer easy, effective weight loss to people who would otherwise consider painful and risky surgeries.