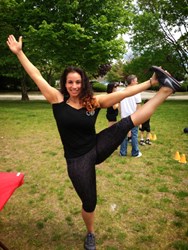 It's sad that I had to have an early age medical issue to actually open my eyes about my health.
Rumford, RI (PRWEB) October 31, 2013
The fitness industry is saturated with young professionals who grew up loving sports and athletics, many of whom have never experienced what it's like to be a "normal" person. Exercise and health is a passion for many of them and always has been. Sometimes it can be difficult to find fitness professionals who can actually relate to the average person and what it is like to struggle with weight loss and gaining motivation. In the fitness industry, being able to relate to people is paramount for success. Many clients feel that their trainers "have no idea" how they feel.
212 Health and Performance trainer Alicia Capellan knows exactly what it's like to be overweight and struggle with health issues and she's proud of her journey. After a wakeup call in the doctor's office where she was put on medication for diabetes at age 19, she decided she had to make a change and there was no one else who could do that for her. "I was not going to waste my time sitting around wondering about my dreams and goals. I went out and achieved them!" Through hard work and dedication, Alicia is now a personal trainer and fitness nutrition specialist. She wanted to use her journey and struggles as a way to help others. Alicia runs various programs at 212 Health and Performance that specifically target people like her. "Losing weight is not the easiest thing ever, but who said it was? It took a year and a half to two years to lose over 100lbs. It's sad that I had to have an early age medical issue to actually open my eyes about my health. I highly encourage our youth and parents to take a stand now to make sure the future is educated about health and know about the reasons behind a healthy lifestyle."
Alicia is currently running an 8 week, Drop 2 Jeans Sizes Challenge at 212 Health and Performance that will culminate the first week of December and will be starting a new session at the start of the New Year. Alicia and also conducts various bootcamps throughout the year. All her programs focus on training and nutritional advice that she knows works- from experience. For more information on Alicia's, and other 212 trainers', upcoming programs visit http://www.212healthandperformance.com/special-programs/.
About 212 Health and Performance:
212 Health and Performance is built on the premise that within each of us lies the ability to push beyond what we think possible. True progress lies between the familiar and the unfamiliar. When the temperature of water raises just one degree it is transformed from water to steam and its ability to power, transform and create change is generated. This is our philosophy. That going just a bit further, taking one more step, lasting one extra second will mean the difference between same and change. Everyone is here for a different reason, this is your journey, this is your change. 212 Health and Performance. Powered by You.