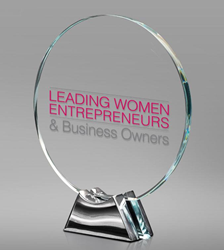 What I really strive for is to be viewed as an entrepreneur who is a role model for young women starting out in the business world.
Parsippany, New Jersey (PRWEB) October 07, 2013
Bari Zell Weinberger, family law attorney and managing partner of Weinberger Law Group, has been recognized as one of New Jersey's Top 25 Leading Women Entrepreneurs of 2013.
Chosen by the Leading Women Entrepreneurs Initiative, names of this year's honorees were announced on September 19, 2013 in a real-time Twitter press conference that reached over 5 million viewers. The LWEI annually chooses a group of business women in New Jersey who exhibit outstanding performance and achievement in business and economic innovation, community involvement, and advocacy for women. Ms. Weinberger was cited for excellence and leadership in each one of these areas.
As the founder and sole managing partner of Weinberger Law Group, Bari Weinberger has built the largest boutique family law firm in New Jersey, doing so in under five years and before she reached the age of 40. Weinberger Law Group represents clients dealing with divorce, child support, child custody, alimony, and other family law-related matters. The firm has now expanded to locations, in Parsippany and Freehold, and a staff of 38, the majority of whom are women. Ms. Weinberger also holds the distinction of leading one of the largest sole partner firms in the country.
In her community work on behalf of women, Ms. Weinberger was cited for her work helping victims of domestic violence. This past year, she created a number of free supporting legal materials for domestic violence shelters and hosted a domestic violence program to help educate and provide awareness regarding domestic violence.
Weinberger hopes her recognition as one of New Jersey's Top 25 female entrepreneurs can serve as a recognition to other women. "What I really strive for is to be viewed as an entrepreneur who is a role model for young women starting out in the business world. I work hard to lead by example and I strive to inspire other women to look at my success and say, 'I can do that,'" she said in response to her nomination.
In 2013, Weinberger joins an esteemed list of fellow female entrepreneurs. According to LWEI data, this year's Top 25 together generate an estimated revenue in excess of $5 billion, employ tens of thousands, and support hundreds of non-profits and women's advocacy groups.
The 2013 Top 25 Leading Women Entrepreneurs are listed alphabetically along with their company name and location:

Lisa Ballarini of Montana Construction; Lodi
Nancy Bray of Shelby Mechanical; Cinnaminson
Elizabeth Corrigan of The Complete Package; Randolph
Joan Cozzoli Rooney of Cozzoli Machine Company; Somerset
Nathalie R. Doobin of HARVARD Services Group; Whippany
Christiana Foglio of Community Investment Strategies; Lawrenceville
Dr. Beverly Friedlander; Short Hills
Amy Gonzales of AK Environmental; West Trenton
Celine Greffard of OneCall Manage; Red Bank
Eileen Huntington of Huntington Learning Centers; Oradell
Lynne Katzman of Juniper Communities; Bloomfield,
Poonam Khubani of Telebrands International; Fairfield
Caryn Kopp of Kopp Consulting; Bedminster
Thai Lee of SHI International Corp; Somerset
Beatriz Manetta of Argent Associates; Edison
Margaret Marcucci of Coranet; Westfield
Elisabete Miranda of CQ fluency; Hackensack
Christine Nichlos of People Science; Shrewsbury
Katherine O'Hara of the O'Hara Project; Morristown
Melissa Oliver of Star Bright Services; Rahway
Sharon Olzerowicz of Hired By Matrix; Rochelle Park
Tara Seager of Ally Solutions Group; Clinton
Bari Weinberger of Weinberger Law Group; Parsippany
Avis Yates Rivers of Technology Concepts Group; Somerset
Jude Connolly Zimmerman; Kenilworth
On December 5, 2013, Ms. Weinberger will be among the women recognized at the annual "Unleashing Your Power" at Fiddlers Elbow Country Club in Bedminster, NJ. To attend the event registration is required at http://www.LWENJ.com. A VIP cocktail reception for the media to meet the Top 25, including Ms. Weinberger, will take place at 5 pm.
Leading Women Entrepreneurs is a media and events company that recognizes outstanding women business owners. The mission is to create a sustainable, ongoing environment that brings leaders together to showcase their attributes and contributions.