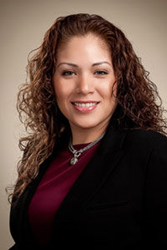 Parsippany, NJ (PRWEB) November 12, 2013
Family law attorney Raquel Vallejo, Esq. was recently sworn in by the Hispanic Bar Association of New Jersey as the organization's new Trustee representing Union County. Ms. Vallejo took her oath last week at HBA-NJ's 34th Annual Installation and Swearing-In Ceremony, held October 30, 2013 at the Westmount Country Club in Woodland Park, NJ.
Ms. Vallejo is an associate attorney of Weinberger Law Group, serving divorce and family law clients at the firm's Parsippany location. A 2004 graduate of Seton Hall School of Law, Ms. Vallejo has been a member of the New Jersey Family Inns of Court, she is presently a member of the NJ State Bar Association, the Morris County Bar Association, and has served as a volunteer attorney for the Jersey Battered Women's Shelter through its legal advocacy program where she represented clients in numerous domestic violence proceedings.
At Weinberger Law Group, Ms. Vallejo's fluency in Spanish and proficiency in Portuguese has helped the firm expand its support of New Jersey's Hispanic and Latino communities. Joining Ms. Vallejo at Weinberger Law Group is family law attorney Laura Mendonca, Esq., who is fluent in Portuguese and proficient in Spanish. The firm also maintains a growing section of Spanish language family law information on its website.
The theme of this year's HBA-NJ ceremony was "Celebrating the American Dream," in recognition of the 50th anniversary of both Dr. MLK's Speech "I have a Dream" and the Civil Rights Act of 1964.
"'Celebrating the American Dream' is our way of honoring this country's history and the history of each of our members who have achieved the American Dream and who provide pathways for others to do the same," noted incoming HBA-NJ president, Anna Maria Tejada, Esq. Several members of Weinberger Law Group, including firm founder Bari Weinberger, were in attendance to celebrate Ms. Vallejo's recognition and the work of HBA-NJ.
The Hispanic Bar Association of New Jersey membership is compromised of judges, partners, entrepreneurs, home owners, business owners -- all who have benefited from and achieved the American Dream. To help others live the dream, the organization also announced last week that it will kick off a pilot pipeline/mentorship program with the Passaic public schools. This program will be a vehicle to mentor juniors and seniors of Passaic High School who have an interest in pursuing a legal career.
As Trustee for Union County, part of Ms. Vallejo's role will be to support similar outreach efforts for creating a more inclusive legal community.