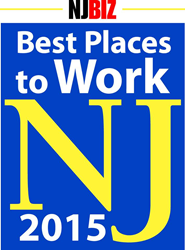 We often say that when you come to us for help with a family law issue, what you are really doing is becoming part of the Weinberger Law Group family.
Parsippany, New Jersey (PRWEB) February 26, 2015
Weinberger Law Group, New Jersey's largest divorce and family law firm, has been named to NJBIZ magazine's list of Best Places to Work in New Jersey for 2015. The annual ranking of New Jersey's top 100 best workplaces is based on employee surveys and evaluations of nominated companies' workplace policies, practices and guiding philosophies.
This is the second year in a row that Weinberger Law Group has been recognized as an outstanding NJ workplace. According to Bari Weinberger, founder and managing partner of Weinberger Law Group, the honor is one that carries special meaning for the firm.
"In 2014 and 2015, our firm has grown from two offices to now five family law offices throughout New Jersey. We have always prided ourselves on having a positive, compassionate, and family-friendly work atmosphere. Being recognized as one of the Best Places to Work in New Jersey is a wonderful testimony to how dedicated our attorneys and entire Weinberger Law Group team are to making sure we maintain and even strengthen our incredible culture as we continue to expand," she notes.
Policies at the firm that earn high rankings from staff are also those that benefit Weinberger Law Group clients. These include free initial consultations to help clients get to know the firm and check out how comfortable it will be working with their attorney at no cost.
According to Weinberger, "We often say that when you come to us for help with a family law issue, what you are really doing is becoming part of the Weinberger Law Group family. That's because family is at the core of our workplace culture. We're not just colleagues, we're friends, and we do everything we can to make sure our clients feel this warmth and welcomeness whenever they step through the door."
Because Weinberger Law Group is solely devoted to divorce and family law matters, both attorneys and staff members are able to share knowledge, work collaboratively, and stay on top of the latest family law developments. The firm also provides clients with constant support in the form of a second, backup attorney familiar with their case. At the same time, other Weinberger Law Group policies are solely designed to create a family-friendly and caring office atmosphere.
As one Weinberger staff member described in the Best Places to Work survey, "We deal with a heavy subject matter all day long. The office makes an effort to keep the environment light and friendly by celebrating good work, happy occasions, positive things in people's lives and even silly holidays like Oreo cookie's birthday ... just so that it keeps a smile on everyone's face. Those up-top go out of their way to show how much they respect and value each person down the line; no exception. Appreciation is shown daily."
Another staff member's review also summed up why Weinberger Law Group deserves the designation of Best Place to Work by stating, "Weinberger Law Group clearly cares about the clients as people and that same caring translates to its employees. There is a belief that we are in the business to help people as our primary goal."
The Best Places to Work in New Jersey 2015 awards ceremony will take place April 30 from 6:00-9:00 PM at the Hilton Hotel Conference Center in East Brunswick, NJ.
Weinberger Law Group operates family law offices which are convenient for clients all around the state including Parsippany (headquarters), Basking Ridge, Freehold, Hackensack and Mount Laurel, New Jersey. Clients with divorce or family law questions may contact the firm by phone or through their easy to access online Ask a Lawyer Your Question form.