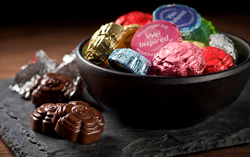 "By asking 'Is this chocolate vegan,' even non-vegans can find the best chocolate to reap all the health benefits dark chocolate has to offer."
Phoenix, Ariz. (PRWEB) May 30, 2014
As the chocolatier who founded Wei of Chocolate, a company that makes only dairy-free, vegan dark chocolate, Lisa Reinhardt has been asked this question more times than she can count. "How can you make chocolate without milk? What makes it creamy?" She answers this question in her new report: "3 Secrets to Eating Chocolate for Health; How to Choose the Best Chocolate for Health and Happiness.
"The best chocolate (and most delicious) is made from cocoa butter, cocoa mass, and a little bit of organic sweetener - with no milk! In Central & South America where chocolate came from, it was always vegan (served without dairy or animal products), and originally reserved for royalty and used by warriors to build their strength and stamina," says Reinhardt.
Looking for dairy-free chocolate is the dividing line between healthy and non-healthy chocolate, from Reinhardt's point of view. Studies have shown that just as some medications cannot be taken with milk, the same is true for cacao. Dairy blocks the absorption of the antioxidants in chocolate.
However, most commercially made chocolate - even dark chocolate - is made with milk and other dairy products. It's not unusual to find whole milk powder, lactose, milk fat and plain old milk in everything from candy bars to gourmet high cacao chocolate bars.
To read get a copy of the report, go here.
What's even more shocking is that even a seemingly simple ingredient like sugar is often not vegan. Bone char - from the bones of cows - is widely used in the sugar industry to filter cane sugar. And while beet sugar doesn't use bone char, nearly all the beet sugar in the US is genetically modified, or GMO.
To ensure you're getting the best chocolate for health, look for organic vegan chocolate made with organic cane sugar - that way, you can enjoy non GMO chocolate, and your body will be able to absorb all the health benefits dark chocolate offers.